U.S. Army's Next Heavy Landing Ship May Outclass Marine Corps' LSM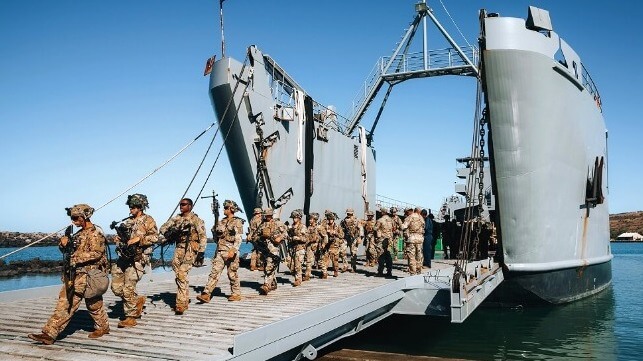 The U.S. Army's little-known Watercraft Systems division plans to acquire a new fleet of landing ships that could outclass the U.S. Marine Corps' future Landing Ship Medium (LSM) by size and capacity.
To complement its existing acquisition program for a light landing vessel, the Army seeks to build a much larger 400-foot landing ship dubbed the Maneuver Support Vessel - Heavy (MSV-H). With a payload of up to 175 soldiers and their equipment, it would have more than twice the capacity of the Marine Corps' LSM. The Army is looking for a design that can move at 18 knots, about 50 percent faster than its current vessels, project manager Wolfgang Petermann told Breaking Defense this week.
Based on the initial specifications for a similar Maneuver Support Vessel (Next) program released by the Army in 2020, the vessel would have a payload of about 1,200 dwt and would be capable of operations in Sea State 7 conditions. Reflecting the Army's practically-minded approach to maritime operations, the specification has stringent requirements for ease of repair.
Notably, the specifications lack the defensive systems and survivability features that the Navy wants to install on the Marine Corps' planned Landing Ship Medium (LSM), which are expected to double the LSM's unit cost and reduce the fleet size by at least half. The Army's 2020 specification calls for at most a 25mm cannon for armament, or about half the combat power of a Mark VI patrol boat. Armor would be limited to small arms ballistic protection in select areas.
The specification roughly aligns with the Marine Corps' goal for an island-hopping cargo vessel with beaching capability, low in cost and ready for series production. Brig. Gen. Samuel Peterson, the program executive officer for combat support, told Breaking Defense that the MSV-H program has been developed with Marine Corps and Navy partners in mind, as well as the Army's own requirements.
With its Watercraft Systems division, the Army is the only U.S. ground force with the budgetary authority to design, purchase and operate its own seagoing vessels. Its largest ships, the General Frank S. Besson-class logistics support vessels, can land 900 short tons on a shallow beach or 2,000 short tons at a ro/ro pier. These vessels operate forward in the Western Pacific with regularity and are a substantial element of the Army's expected role in a regional conflict.
The Marine Corps has deep historical and institutional roots in amphibious assault, but is reliant on the Navy for seagoing transport, leading to occasional disagreements on procurement and budgetary priorities.