U.S. Air Force, Good Samaritan Ship Save Missing Fishermen in Micronesia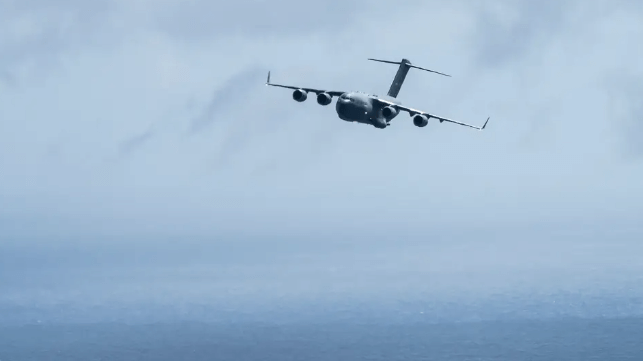 The U.S. Coast Guard is the primary provider of long-range search and rescue for a vast swath of the Pacific Ocean, and it routinely helps Pacific Island nations to save lost fishermen and citizens at sea - with a little help from other armed forces and from merchant shipping.
On July 12, the Coast Guard station on Guam received a forwarded request for help from the American embassy in Pohnpei, one of the states of Micronesia. Two fisherman had gone missing near Nukuoro Atoll, and they were two days overdue.
The vast expanse of the Pacific makes SAR operations particularly demanding, and a combination of aviation and surface assets are required to carry the mission out. Nukuoro is a case in point: the remote atoll is 300 nm away from Pohnpei and 900 nm from Guam. It is isolated enough that the small population has developed its own language, and its only connection to the outside world is a monthly passenger vessel service.
Since U.S. Coast Guard Sector Guam does not have long-range aircraft of its own, it reached out to Sector Honolulu, which dispatched an HC-130J SAR aircraft on the 3,500 nautical mile flight from Air Station Barbers Point to Guam. The U.S. Air Force also pitched in with the services of four C-17 Globemaster cargo aircraft, which added a search pattern onto their departure flights from Guam.
The next morning, one of these aircrews spotted the missing fishermen at a position about 10 nm to the south of the atoll. The Coast Guard checked the AMVER system to see if there might be a participating merchant ship nearby, and it contacted the passing reefer Sea Pearl I. The vessel agreed to divert to rescue the two missing fishermen, and it confirmed later that day that it had picked them up safely.
"Operating in the expansive Pacific region with limited resources poses unique challenges. Recognizing the immense value of commercial mariners in supporting search and rescue efforts, particularly in the vast expanse of the Pacific, we extend our appreciation to these merchant mariners who are willing to divert and rescue others at sea," said Capt. Nick Simmons, commander of U.S. Coast Guard Forces Micronesia/Sector Guam.
It was the second U.S. Coast Guard-enabled rescue in the expanse of the Central Pacific in a week. On July 10, the service worked with the armed forces of Canada and France to find and rescue a missing fishing boat with 11 passengers in the Northern Mariana Islands, just north of Guam.