Typhoon Drives Tanker into Bridge Near Osaka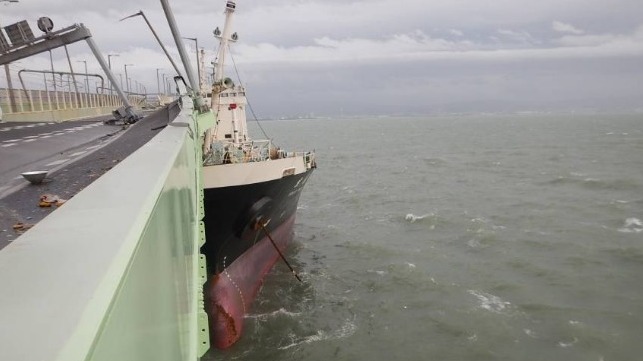 Typhoon Jebi arrived in Osaka on Tuesday, and its fierce winds swept a product tanker into the bridge between the Kansai International Airport and the mainland. No injuries were reported, and the crew were evacuated from the vessel by helicopter.
The 2,500 dwt tanker Houn Maru was anchored in Osaka Bay before the storm's arrival. She dragged anchor and struck the bridge at about 1300 hours, and photos from the scene showed significant damage to the bridge structure, with the starboard side of the vessel's wheelhouse entangled with the bridge deck. The allision forced local authorities to close the causeway to car traffic and to halt the bridge's rail line. 3,000 passengers were trapped at the Kansai airport as a result of the closure.
Jebi made landfall with sustained winds of 85 knots and gusts to 115 knots, making it the strongest typhoon to strike Japan in 25 years. The storm surge also created the highest tidal levels recorded since 1961, leading to flooding at the airport and forcing a shutdown. Kansai - which is one of the busiest airports in Japan - will remain closed until Wednesday evening at the earliest.
Elsewhere in Osaka and Kobe, several dozen barges broke loose from their moorings and went adrift. Some had crewmembers on board, but no injuries were reported, the Japan Coast Guard said.
Separately, six individuals on shore lost their lives in storm-related accidents, and at least 90 were injured. An earlier series of typhoons that hit Japan in July cost the lives of more than 220 people.
???????????? pic.twitter.com/v0km3igKYk

— ??? (@08030229j) September 4, 2018