Two-Week Strike Scheduled at Chevron Australia's LNG Operations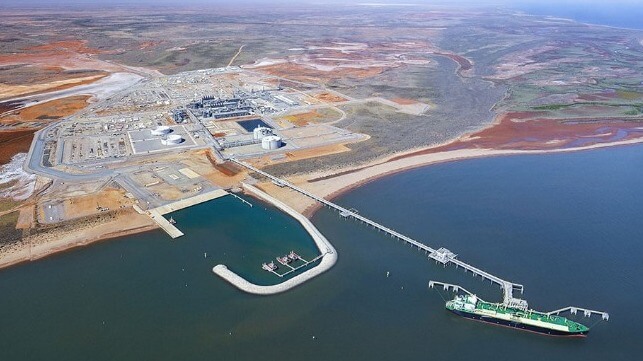 The contentious labor situation between Chevron Australia and the Offshore Alliance which represents more than 500 workers heated up further with the union announcing today it has served notice for a two-week strike scheduled to begin September 14. This comes as mediators are working all this week in an attempt to reach an agreement before the first limited job actions due to begin on Thursday, September 7.
Chevron Australia, which produces between five and seven percent of the world's LNG supply from its Australia operations, says that it is looking for the current talks to "narrow the differences" while saying it does not believe a strike is necessary to resolve the issues. The Offshore Alliance, which is a combination of the Maritime Union of Australia and the Australian Workers Union, is escalating the fight against Chevron after reaching a preliminary agreement with Woodside and conducting a strike against Shell in 2022 to win a new collective bargaining agreement. Australia's new government restored the rights of unions which led to the new round of negotiations for Enterprise Agreements.
"The Offshore Alliance is escalating Protected Industrial Action to demonstrate that our bargaining negotiations are far from 'intractable'," the union wrote in a new posting on social media today. They said their lawyers have notified Chevron that they will escalate work bans and the work stoppage in response to what they say is Chevron Australia's "duplicitous claim," about the negotiations.
Last week, Chevron attempted to bypass the union presenting what the company called a "market competitive" offer to the workers at the Gorgon and Wheatstone facilities in Western Australia. The Offshore Alliance reports that only four of the 518 workers voting accepted the terms in what it termed a "humiliating defeat" for Chevron.
After the workers voted down the proposal, Chevron asked Australia's Fair Work Commission to mediate the negotiations. The mediated sessions began on Monday and are expected to continue each day this week. The union however is already critical of the process saying it is only for the onshore facilities not including the offshore platforms.
The Chevron facilities cover the gas needs of Western Australia and are major exporters primarily to Asia. Analysts speculated to Reuters that Asian buyers might begin to outbid European buyers to meet their LNG needs. Traders have been carefully watching the negotiations and potential impacts on the market. So far, both Bloomberg and Reuters report there has been little change in the price of LNG on world markets. Just over a year ago, the Offshore Alliance held out in a 71-day strike against Shell before terms were reached on the new union contract.