Two Killed in Explosion at Shipbreaking Yard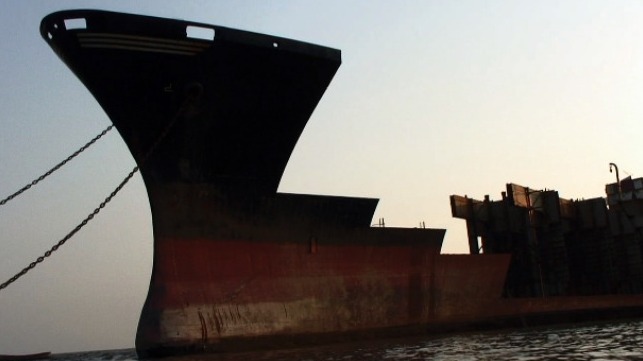 On Sunday, an explosion at a shipbreaking yard in Chittagong, Bangladesh killed two workers and injured one.
The men were working on the demolition of the VLCC Greek Warrior, IMO 9191412, at Shagorika Shipbreaking Yard. Local media identified the victims as Md Jalil, 32, and Bipul Chandra, 30. Both men died at the hospital, according to authorities. The injured worker, Md Masud, 26, is currently in treatment.
According to NGO Shipbreaking Platform, the Warrior was sold for demolition by a Greek owner last year. The same owner has sent about two dozen vessels to South Asian beaches over the course of the last 10 years, including 12 to Bangladesh. The NGO notes that Greek shipowners are the largest single tonnage source for shipbreaking yards in South Asia, and it called for all European owners to stop doing business with beaching yards.
"It is about time that the Greek government puts an end to the appalling shipbreaking practices of its shipping industry and holds it liable for the irreparable damages caused by beaching," asserted NGO Shipbreaking Platform's executive director, Ingvild Jenssen.
In Holland, prosecutors have won several judgements against shipowners for selling vessels to South Asian ship recyclers. The latest case - a $3.5 million judgement against a subsidiary of WEC Lines BV - was for a ship sold in 2013, years before the implementation of the EU's new ship recycling regulations. The fine was about $1 million more than what the subsidiary received in the sale.
Head of Gadani's shipbreaking union dies
Babu Karim Jan, the leader of Pakistan's independent shipbreaking workers' union, died shortly after he was taken into police custody on Sunday morning. He was wanted on charges of attempted murder.
Jan, a senior citizen, was removed from his home in the early hours of Sunday morning and placed in a police van. Authorities initially asserted that he died of a heart attack shortly after he was taken into custody, but on Monday senior officials announced a high-level inquiry into the circumstances of his arrest.
Nasir Mansoor, the leader of Pakistan's National Trade Union Federation, accused the police of "brutality" in Jan's detention and death.
Workers' advocates question the rigor of the safety management practices in place in the Pakistani shipbreaking industry. Fires and explosions have been a recurring problem at Gadani's yards in recent years, sometimes with multiple incidents aboard the same ship.