Tremiti Islands Fast Ferry Destroyed by Arson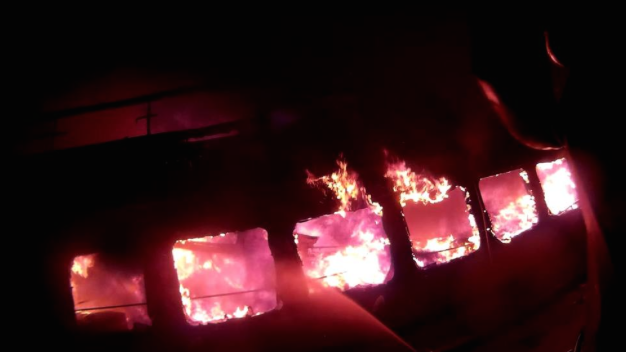 Authorities are investigating an arson in Vieste, where attackers appear to have used an accelerant and a triggering device to set fire to the fast ferry Sorrento Jet, which carries passengers to the Tremiti Islands.
The fire was intense enough to burn off the roof of the aluminum vessel's passenger cabin. It started at about 0400 hours in the wheelhouse, then swept back through the rest of the ship. Local firefighter and volunteers responded and extinguished the blaze by about 0600 hours.
The incident follows another attack on property last week, when three inflatable boats used for tourist excursions were damaged on the island of San Domingo. The owners told police that they had no known enemies and had not been threatened or intimidated. However, local media say that authorities suspect either other tour operators or the work of an extortion racket.
Giandiego Gatta, vice president of the regional council and councilor for the political party Forza Italia, said that the arson caused "serious harm to the image of . . . public safety. This is an episode to condemn in the strongest terms and I hope that the police can bring the perpetrators to justice as soon as possible. At the height of the summer season, with tourists who flock to the Gargano, such an act can also cause damage to the local economy, and arouses anger and indignation throughout our communities."
It is not the first time that someone has tried to burn the Sorrento Jet – local media report that the ship survived an arson attempt last year.