TOTE Cancels Plans for U.S. Mainland-Hawaii Service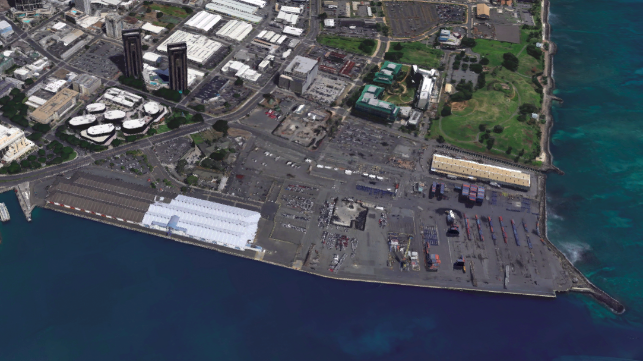 TOTE Maritime, an operator of liner services to Alaska and Puerto Rico from the U.S. mainland, announced Friday that it is canceling its plans to build four new Jones Act ships and enter the mainland-to-Hawaii trade lane.
TOTE said that after a technical review, it determined that its dedicated piers in Honolulu's harbor would need considerable work in order to make them usable for the new service. Due to the "scope and timing of upgrades and improvements" at Honolulu Piers 1 and 2, TOTE said, it will suspend plans to compete with Matson and Pasha Group on the route.
It has also decided not to renew a letter of intent with Philly Shipyard for four LNG vessels similar to Matson's Aloha Class ships. The newbuilds would have followed on directly after Matson's two vessels. Philly said in a statement that TOTE's ships are already under construction, and orders for long-lead-time components for the first two vessels have already been placed. The yard has suspended work on the first hulls until it has more clarity. "[Philly] is exploring alternatives in order to secure contracts and financing for these vessels," the yard said. "In addition, [Philly] is continuing to pursue potential new construction projects for other types of Jones Act vessels."
When it announced its intention to enter the Hawaii trade, TOTE said that timing for the venture was critical and it needed a commitment for terminal space in Honolulu. The firm secured a commitment from the Hawaii Department of Transportation for the use of Piers 1 and 2 - a ro/ro terminal and a cruise terminal, respectively - along with 45 acres of adjacent land. However, TOTE's review found that the facility was not ready to support its planned operations. "TOTE continues to be open to working with the Hawaii Department of Transportation to update plans and a timeline for access to a Honolulu deep water terminal that would allow commencement of TOTE's service to Hawaii," the firm said.
Last August, Matson CEO Matt Cox warned that TOTE's extra vessels were unneeded and would lead to "uneconomic" overcapacity in the U.S.-Hawaii trade lane. "The severe losses experienced over time in Puerto Rico and trans-Pacific trade lanes provide examples of the detrimental impact that overcapacity can have in this business," he cautioned in a call with media.