Three US States Coordinate Wind Procurement to Address Industry Challenges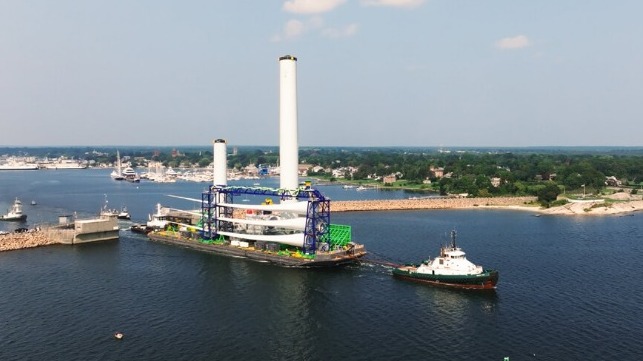 In a first-of-its-kind effort in the United States, three Northeastern states have announced they will coordinate their efforts for developing offshore wind assets. Massachusetts, Rhode Island, and Connecticut believe that regional collaboration will help to advance large-scale offshore wind projects providing key benefits to the states while providing opportunities to address the emerging issues in the developing industry.
Independently, each of the states has recently announced plans for offshore wind procurement as they seek to meet goals for decarbonization and economic development. However, they have also each come under pressure from developers who are citing the mounting hurdles resulting from rising costs, inflation, and supply chain problems.
Within the last week, regulators in both Massachusetts and Connecticut have agreed to let major wind farm developers buy their way out of existing power purchase agreements struck previously with the state's power utilities. Two of Massachusetts' large projects, Revolution Wind and SouthCoast Wind, will be reopened for bidding in an effort to reset the value of the power agreements required for the projects to move forward. Similarly, Connecticut just agreed to a deal that will also require its Park City Wind project to be rebid.
Rhode Island's October 2022 request for proposal for 600 to 1,000 MW of offshore wind power received only one bid, a joint offer from Ørsted and Eversource. The state's power company Rhode Island Energy decided in July 2023 not to proceed with the long-term power purchase agreement citing higher costs and the failure to meet the goal of affordability and cost benefits to taxpayers. The regulators said they believed higher interest rates, increased costs of capital, and supply chain expenses, as well as the uncertainty of federal tax credits, were impacting the industry, but reported they would proceed with a new solicitation after working with various stakeholders to identify additional ways to bring more offshore wind opportunities to the state that could offer more affordable pricing.
"Offshore wind is an important resource in meeting our Act on Climate and renewable energy goals," said Rhode Island Governor Dan McKee today as part of the new collaboration agreement. "Regional collaboration through this three states MOU will not only help in advancing offshore wind projects of large scale by securing cost-effective energy prices for ratepayers – but it also provides a significant opportunity for long-term economic development."?
The states have agreed to seek multi-state offshore wind proposals that would expand benefits for the region while capturing cost reductions by developing projects at scale. The three states are requesting that offshore wind developers submit multi-state offshore wind project proposals for consideration as part of the states' offshore wind procurement selections in 2024. Combined, the states' solicitations are for up to 6 GW of offshore wind. Actual project selections will depend on the states' individual assessments of proposals' costs and benefits to ratepayers and other evaluation criteria specified in states' requests for proposals. Any two or three states may agree to select a multi-state proposal(s) up to each state's procurement authority and split the anticipated megawatts and renewable energy certificates from a single project.
"The climate crisis requires us to act in new and innovative ways. Massachusetts is proud to join with our neighboring states to continue to grow New England's offshore wind industry," said Governor Maura Healey of Massachusetts. "By working together, we can amplify the many benefits of offshore wind for all three states, including regional economic development opportunities, healthier communities, lower energy bills, and advantages to environmental justice populations and low-income ratepayers."
Massachusetts, on August 30, issued its fourth and largest offshore wind solicitation to date seeking up to 3.6 GW of offshore wind generation proposals. Similarly, at the end of July, Connecticut released a draft Request for Proposals for Offshore Wind Facilities seeking proposals for up to the remaining procurement authority of 1,196 MW. The deadline for proposals is likely to be set as January 31, 2024. Rhode Island Energy is still in the process of developing an Offshore Wind RFP but later this month is expected to begin seeking proposals of approximately 1,200 megawatts of new offshore wind capacity.