Three Modern Product Tankers Join U.S.-Flag Fleet Under TSP Program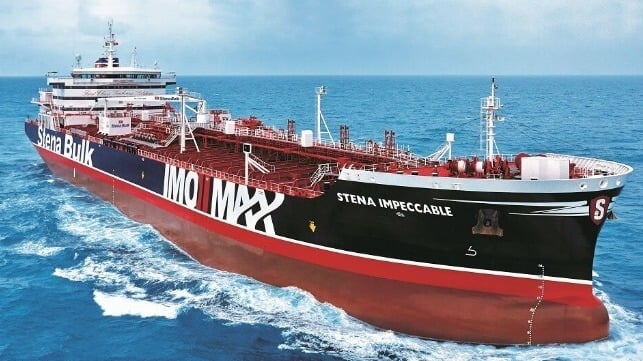 The U.S. Maritime Administration has signed an agreement with Crowley and Stena Bulk to reflag three product tankers into the U.S. registry and add them to the new Tanker Security Program (TSP).
"Crowley's team with Stena Bulk offers government customers a deep, full suite of capabilities to maintain an efficient, dependable supply chain with management that adds value by being able to meet needs quickly and innovatively," said Gavin Hughes, vice president of Crowley Government Solutions.
The deal will see the IMOIIMAX tankers Stena Immaculate, Stena Imperative and Stena Impeccable join the U.S.-flagged, U.S.-crewed deep sea fleet, augmenting America's access to tanker capacity in time of need. The three tankers are all relatively young: CSSC Guangzhou Shipyard delivered all three in 2016-17.
These modern vessels were built to be the best in their class for fuel efficiency, thanks to extensive R&D efforts by Stena Technik and Guangzhou. They can carry IMO 2 and 3 chemical cargoes as well as the clean petroleum products needed for defense logistics.
The tankers are owned by Stena Bulk and will be managed and crewed by Crowley under the new agreement.
The newly formed TSP provides a subsidy of $6 million per year for up to 10 participating tankers, allowing the vessels to continue to trade commercially while remaining available for national defense purposes if called upon. TSP fills an "urgent need" identified by the Department of Defense for access to product tanker tonnage for national security requirements. This is particularly critical for operations across the wide expanse of the Pacific, an area of focus for defense planners. The TSP parallels the longstanding Maritime Security Program (MSP), which incentivizes 60 foreign-built vessels to sail under the U.S. flag with U.S. mariners at the helm.
Crowley and Stena Bulk have worked together before to serve U.S. government customers. In 2022, Crowley secured a Military Sealift Command charter contract to operate the ice-class tanker Stena Polaris, serving the bulk fuel needs of the U.S. Department of Defense in the Arctic and Antarctic.
Crowley has also worked with a related company, Stena RoRo, to advise MARAD on the acquisition of used ro/ro vessels to replenish the Ready Reserve Force (RRF) fleet.