The Sailors Who Saved USS Fitzgerald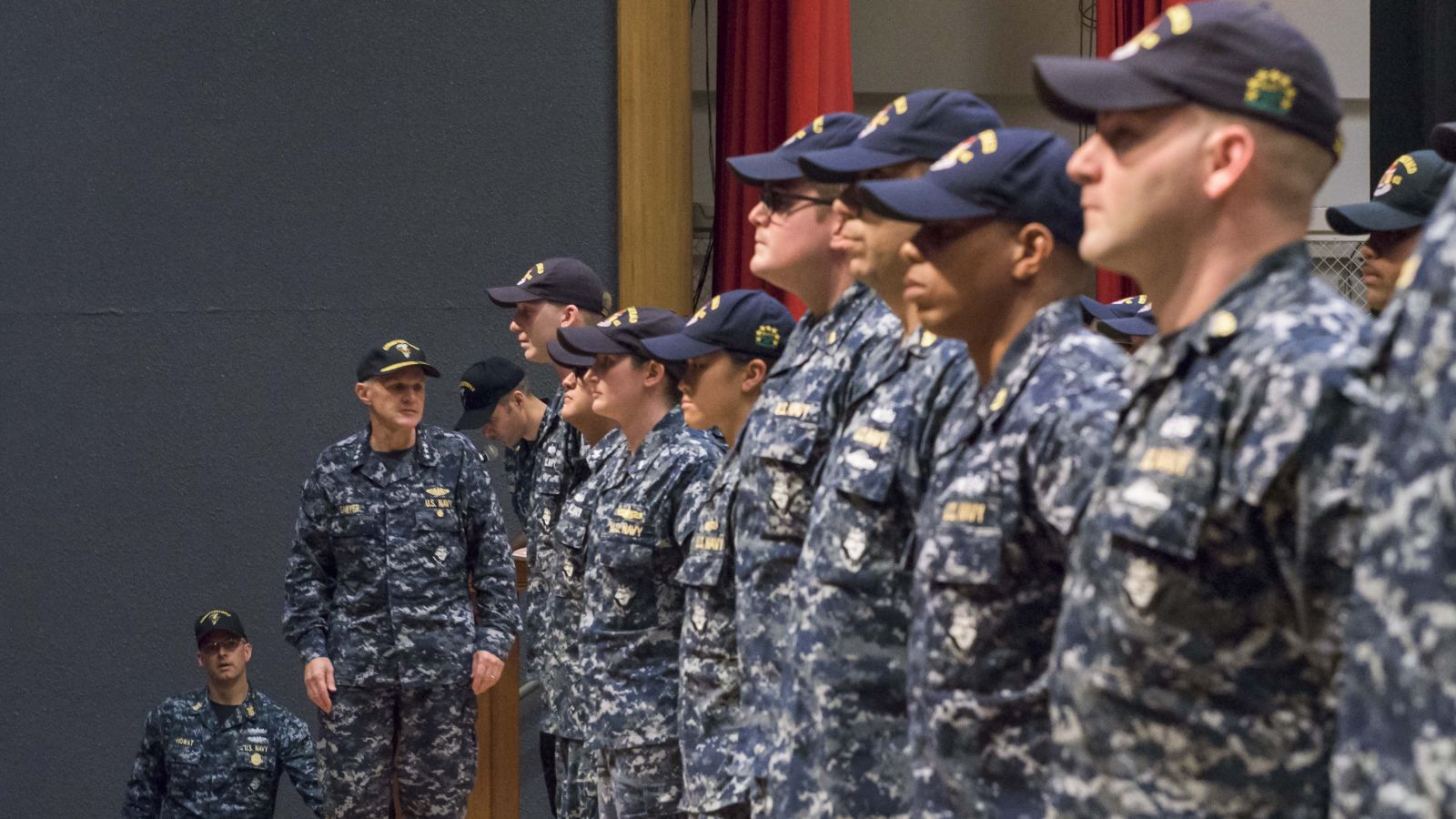 On Friday, thirty-six sailors who distinguished themselves for their bravery and contributions to damage control efforts aboard the guided-missile destroyer USS Fitzgerald were recognized at an awards ceremony in Yokosuka, Japan.

Vice Adm. Phil Sawyer, commander of 7th Fleet, awarded the Navy and Marine Corps Commendation Medal to 36 members of the Fitzgerald crew and a Flag Letter of Commendation to the ship's two ombudsmen for their support to families. The Navy and Marine Corps Commendation Medal is awarded to service members who distinguish themselves by heroism, outstanding achievement or meritorious service.
Commendation medals and citations staged for presentation (USN)
The Fitzgerald collision with the merchant ship ACX Crystal on June 17 was among the most serious non-combat Navy casualties in recent years. Seven of the Fitzgerald's crewmembers were killed in the accident: Gunner's Mate Seaman Dakota Kyle Rigsby, 19; Yeoman 3rd Class Shingo Alexander Douglass; Sonar Technician 3rd Class Ngoc T Truong Huynh, 25; Gunner's Mate 2nd Class Noe Hernandez, 26; Fire Controlman 2nd Class Carlos Victor Ganzon Sibayan, 23; Personnel Specialist 1st Class Xavier Alec Martin, 24; and Fire Controlman 1st Class Gary Leo Rehm Jr., 37.
Three more were wounded, including the destroyer's commanding officer, Cmdr. Bryce Benson, who has since been relieved of command. The Navy's initial investigation found that human factors were largely responsible for the accident.
Following the collision, the Fitzgerald's crew fought back against progressive flooding across 19 spaces for more than 16 hours. Facing constant peril from flooding, electrocution, structural damage and noxious fumes, these sailors prevented further loss of life and ultimately saved the ship.

The list of personnel receiving awards is as follows:

Navy and Marine Corps Commendation Medal

Sonar Technician (Surface) 1st Class Alexander R. Vaughn

Fire Controlman 2nd Class Johsua E. Tapia
Lt. j.g. Stephany M. Breau

Lt. j.g. Heather A. Bui

Ens. Joseph A. White

(Gold star in lieu of third award) Senior Chief Gunner's Mate Christopher Perez

(Gold star in lieu of second award) Chief Fire Controlman Travius L. Caldwell

Chief Gunner's Mate Jared B. Ogilvie

Damage Controlman 1st Class Emanuel Ascensio

Quartermaster 1st Class Carlos G. Clark

Hull Maintenance Technician 1st Class Lucas W. Giles

Damage Controlman 2nd Class Sabria D. Greaves

Machinery Repairman 2nd Class Darion L. Hunter

Damage Controlman 2nd Class David J. Marnien

Electronics Technician 2nd Class Joshua A. Mason

Machinist's Mate 2nd Class Sanerive J. Meredith

Fire Controlman 2nd Class Jackson T. Schrimsher

Operations Specialist 2nd Class Matthew H. Stawecki

Fire Controlman 2nd Class Romel A. Wade

Damage Controlman 2nd Class Rebekah Wilson

Hull Maintenance Technician 3rd Class Aaron R. Aurelio

Culinary Specialist 3rd Class Danya A. Cribbs

Electrician's Mate 3rd Class Samuel A. Hill
Hull Maintenance Technician 3rd Class Nathan W. Lauritzen

Damage Controlman 3rd Class Joshua H. Rodriguez

Damage Controlman 3rd Class Louis B. Simeone

Damage Controlman 3rd Class Ryan P. Sorensen

Hospitalman Gaylord M. Lawrence

Fireman Matthew J. Mugg

Fireman Tyler D. Perkey

Fireman James A. Strickland

Flag Letter of Commendation

Garrett Zopfi

Kumi Bergstraser

The Navy has awarded a contract to move Fitzgerald via a heavy-lift vessel to Huntington Ingalls Industries (HII) in Pascagoula, Mississippi, for restoration. The cost of rebuilding FItzgerald and her sister ship USS John S. McCain, which was damaged in a separate collision, is projected to exceed $600 million.