The Nautical Institute Issues New Guidance for Polar Shipping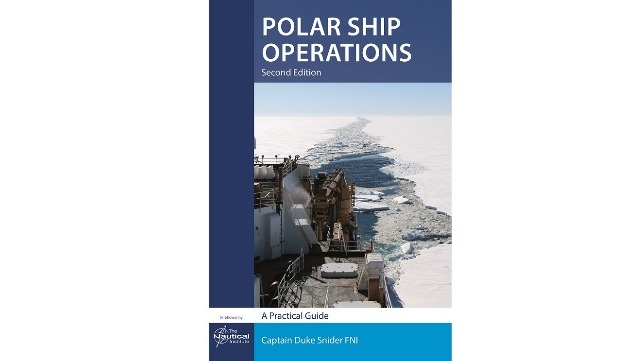 Interest in the polar regions is rising rapidly as the shipping season is lengthening. Maritime traffic has grown substantially, and sea ice loss is resulting in more variable conditions. As a result, even well-established ship operators are facing challenges. Operators also need to comply with new regulations, notably the Polar Code, which came into force last year.
Recognizing that this is a critical time for polar shipping, The Nautical Institute has published a new edition of its highly acclaimed Polar Ship Operations – A Practical Guide, by Captain Duke Snider FNI. As a highly qualified ice navigator, Snider brings the full benefit of his extensive experience in polar shipping to describe the human, technical, environmental and operational challenges of transiting polar seas.
Explaining the changes introduced for the Second Edition, he said: "Since the initial release of Polar Ship Operations in 2012, technology has continued to advance, the Polar Code has come into effect and The Nautical Institute has launched the Ice Navigator Certification Scheme. These changes have affected polar shipping both directly and indirectly. We have updated Polar Ship Operations to reflect these and other changes, updating material throughout the book as well as adding new chapters to remain relevant and ensure that mariners are kept abreast of continuing change."
Over the past 40 years, Snider has amassed a broad range of seagoing experience in naval, commercial and Canadian Coast Guard shipping, much of it in the ice-covered waters of the Arctic, Gulf of St Lawrence, the Baltic and the Antarctic. He has served as an ice navigator in the Canadian, US and eastern Russian Arctic and is CEO and Principal Consultant at Martech Polar Consulting.
Snider was instrumental in developing The Nautical Institute's Ice Navigator Scheme, which sets the first international standards for skills, knowledge and competence for ice navigators. He was elected a Fellow of The Nautical Institute in recognition of his long seagoing career and dedication to improving standards at sea, with particular emphasis on ice navigation, and is currently the Institute's President.
The book is available at http://www.nautinst.org/pubs ISBN: 978 1 906915 56 8