On June 6, 1944, Allied forces under General Dwight D. Eisenhower took advantage of a narrow weather window and stormed the beaches at Normandy, France. It was the largest amphibious assault in history and the momentous first step in the end of the Second World War.
To support the operation, the Allies had a force of 150,000 soldiers, 11,000 aircraft and 7,000 vessels at their disposal, including 4,000 landing craft and 860 merchant ships. A total of 200,000 sailors, merchant seamen and coastguardsmen crewed this fleet. Despite its massive size, "Operation Overlord" was kept secret until the beginning of the assault, a success attributable to a well-resourced campaign of deception. Thanks to this covert effort, German forces were not as heavily concentrated at the landing sites, and by the end of the first day Allied troops were on shore and ready to push Nazi forces out of France – but not without cost. 4,400 Allied personnel died on D-Day, including 2,500 American soldiers.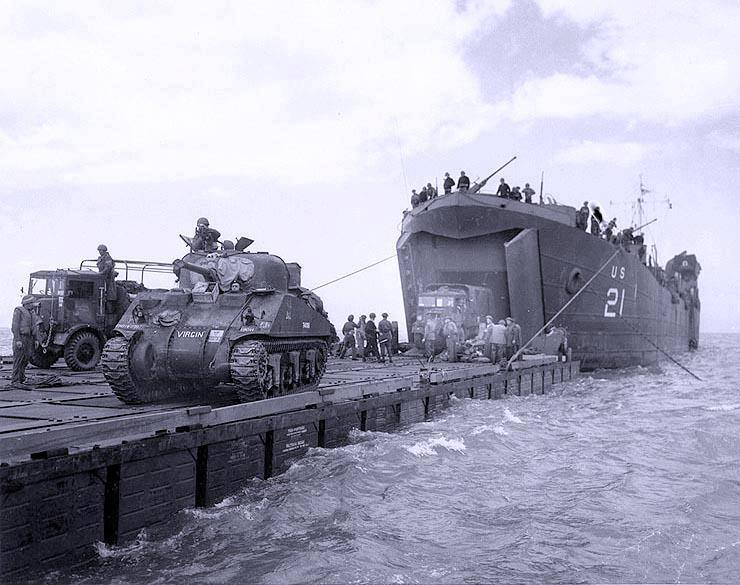 U.S. Coast Guard-manned USS LST-21 unloads British Army tanks and trucks onto a "Rhino" barge during the early hours of the invasion, June 6, 1944 (Naval History and Heritage Command)
The battle for the beaches at Normandy was marked by uncommon bravery, and the costly American assault on Omaha Beach has been commemorated many times in film and literature. Sandbars, man-made obstacles, limited fire support and steep cliffs made the assault much more difficult than at the other four landing sites, and American units at Omaha sustained 2,000 casualties on the first day. At Juno, Gold, and Sword Beaches, casualties were about 1,000 personnel each; at Utah Beach, a successful aerial bombardment had effectively neutralized German strong points and losses were relatively light.
A landing craft approaching Omaha Beach, June 6, 1944 (USN)
LSTs discharge reinforcements at Omaha Beach after the assault, June 6, 1944
Just before the amphibious assault, Allied paratroopers landed behind the lines for a protracted and fierce battle for control of roads, bridges and fortifications. Due to weather and wind, they were scattered over a wide area and many ended up miles from their drop points. Despite setbacks, they mounted a series of effective actions against German units and paved the way for Allied forces to move off the beaches. These skirmishes included the most costly small-unit engagement in the U.S. Army's history, now remembered as the Battle of La Fiere. Lightly armed and on their own, the 82nd Airborne's 505th Parachute Infantry Regiment and 325th Glider Regiment took and held a causeway at La Fiere. They lost 254 men – more than the toll at Utah Beach – but they saved the strategic connection to the far side of the Merderet River.
"Several hundred airborne warriors seized a causeway that helped free a continent and end a war," said Army Gen. Curtis M. Scaparrotti at a commemorative ceremony Monday near the site of the battle. "There are moments in a nation's history when its future course is decided by a chosen few who walked bravely into the valley of the shadow of death . . . In such moments, young men and women pledge their lives so that their nation can live."