Thailand and Vietnam Pledge Partnership to Combat IUU Fishing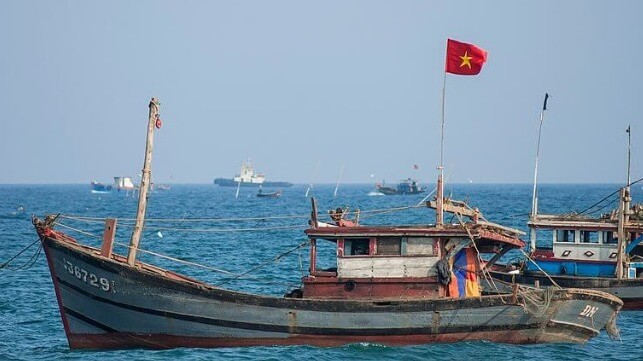 With ASEAN countries embracing fishing diplomacy to combat IUU (illegal, unreported and unregulated) fishing, Thailand and Vietnam have agreed to seek closer cooperation to end continued plunder of their marine fisheries. Their new MoU formalizes earlier cooperation programs, mainly implemented through the Vietnam-Thailand joint working group on anti-IUU fishing.
IUU fishing causes substantial economic losses in South East Asia, with analysts estimating that the region loses over $6 billion a year. Indonesia and Vietnam experience the largest loss.
Although rising concern of the ASEAN countries has helped reduce IUU fishing in territorial waters, the practice is now moving to exclusive economic zones and international waters, thus requiring multilateral cooperation.
The MoU between Thailand and Vietnam is expected to ease the shortage of human, financial and technical resources, necessary in enforcement of IUU fishing legislation.
"The scope of the cooperation include exchanging information on transshipment and landing of aquatic lifeforms at ports, traceability, and verification of catch certificates. It also covers enhancing capacity of anti-IUU fishing activities such as compliance with port state measures and exchanging information on illegal fishing vessels under ASEAN network mechanism," said RatchadaThanadirek, Thai deputy government spokesperson.
Thailand is one of the world's largest seafood exporters and it started its crackdown on IUU fishing in 2015 after the European Union threatened to ban its seafood exports. Some of the measures that Thailand adopted include having stricter regulations around port state control of fishing vessels. In addition, Thailand has other existing MoUs on anti-IUU fishing with Myanmar, Fiji, Korea, Laos and Philippines.
However, the IUU crackdowns have produced mixed results as the local fishing industry has protested the changes, citing loss of jobs.
Vietnam has also been weighed down by IUU fishing. The EU is yet to lift a trade warning it issued to Vietnam back in 2017, with the European Commission arguing that the Asian country had not done enough to counter the problem. Europe is the biggest market for Vietnam's seafood products, valued at $1.3 billion in 2019.
Top image: Vietnamese fishing vessels off Da Nang (CEphoto / Uwe Aranas)