Thai Navy Tows Away "Seasteading" Platform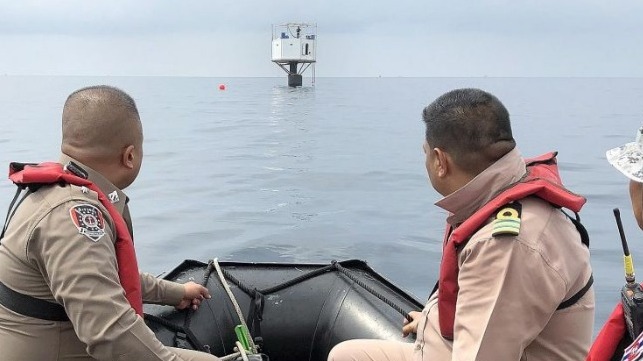 The Royal Thai Navy has dismantled and towed away the "seasteading" houseboat that two private citizens installed 14 nm off the coast of Phuket, just outside of the Thai territorial sea boundary.
The Royal Thai Navy said that the structure, a pylon-mounted octagonal box similar to a lighthouse, was a hazard to navigation and an affront to Thai sovereignty. On Monday, about 300 naval personnel and three vessels arrived to remove the platform and tow it into port.
The Thai Navy has charged the dwelling's owners, U.S. national Chad Andrew Elwartowski and Thai national Supranee Thepdet, with "threatening the Kingdom's sovereignty," an offense punishable by death or life in prison. According to the Bangkok Post, they may also face charges of fraud for convincing others to invest in similar offshore homes. Elwartowski and Thepdet left the platform before Thai officials arrived, and they have not been located since.
In a statement Monday, the Royal Thai Navy invited them to visit their dwelling once it reaches the port of Phuket. "Once the sea house reaches the shore, the owner of this house can come to inspect it, as well as come forward to the Thai authorities in order to prove themselves in the legal process," said Capt. Puchong Rodnikorn, an officer of the Third Naval Area Command, in a statement Monday.
Elwartowski is a former bitcoin investor and a proponent of "seasteading," a libertarian movement that seeks to create self-governing communities in international waters. The offshore breakaway state is not a new concept - the converted North Sea facility known as Sealand has claimed sovereign status since 1967 - but seasteaders do not intend to found a new nation. Rather, they envision a series of minimally-governed communities at sea, with individual homeowners able to join or depart with their floating dwellings.
"I was free for a moment. Probably the freest person in the world," said Elwartowski in a Facebook post after fleeing the site. "It was glorious."