Tanker Crewmember Dies Attempting to Save Ship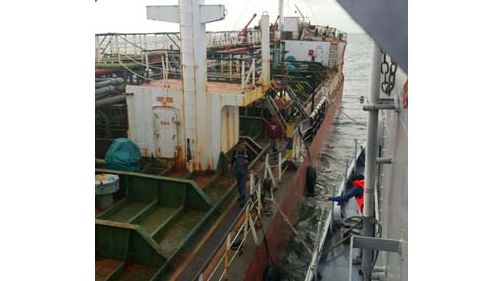 A crewmember of the 7,000 dwt tanker Nusantara Akbar died Saturday in a fresh water tank while working to save the sinking vessel. The remainder of the ship's complement of 27 were safely rescued.
"Allegedly he was immersed in fresh water tank of the ship, "said Indonesian Navy (KRI) commander Marine Major Priyo Cahyono on Saturday.
Cahyono said that off the port city of Dumai, Sumatra, the vessel suffered a leak in the engine compartment at around 1630 hours. At that point the captain made the decision to anchor.
The crew attempted to stop the leak and to dewater the compartment using pumps, but the ingress was reportedly greater than the capacity of the pumps to remove the water. A 26-year old crewmember chose to take a water pump to the bow of the tanker to evacuate the ship's fresh water tank. He never returned. When his crewmates came to investigate, they found that he was at the bottom of the tank, lifeless, authorities said.
The Nusuntara put out a distress call which was answered by a KRI patrol vessel on duty in the Strait of Dumai. The patrol ship evacuated the tanker, brought the crew to the port of Dumai and transferred the victim's body to shore authorities. Additional media sources reported that the tanker Seroja 8 also provided assistance on scene, taking on 16 people before the arrival of the KRI SAR vessel.