[Updated] Stricken Solo Yachtsman Rescued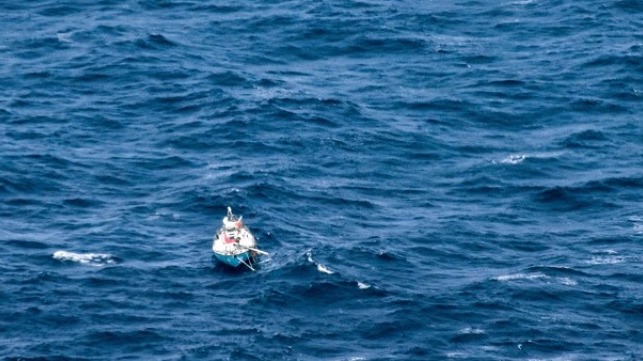 The Australian Maritime Safety Authority (AMSA) has successfuly coordinated a multi-national search and rescue for injured solo yachtsman Abhilash Tomy.
An Indian Armed Forces P-8 aircraft sighted the stricken yacht SV Thuriya on Sunday approximately 3,500 kilometers (2,200 miles) west of Perth in remote seas and in bad weather.
AMSA tasked a French fisheries patrol vessel, FPV Osiris, to respond, and Tomy has now been rescued.
Tomy was participating in the Golden Globe Yacht Race and injured his back when his 10-meter (33-foot) yacht rolled 360 degrees and dismasted in rough weather on Friday night. He indicated in a message that he is unable to move.
Tomy's first message, sent a satellite text on Saturday, read: "ACTIVATED EPIRB. CANT WALK. MIGHT NEED STRETCHER." A subsequent message read: "CAN MOVE TOES. FEEL NUMB. CAN'T EAT OR DRINK. TOUGH 2 REACH GRAB BAG."
According to race organizers, his latest message before rescue read: "LUGGED CANS OF ICE TEA. HAVING THAT.VOMITTING CONTINUINGLY. CHEST BURNING Position: 39′ 33.512 S 077′ 41.608 E"
The crew of the Osiris report that he is conscious and talking. He is now receiving first aid and will be taken to the island of New Amsterdam for treatment.
The 2018 Golden Globe Race is a sailing race around the world which started on July 1, 2018 from Les Sables-d'Olonne, France.
In 2013, Tomy was the first Indian to circumnavigate the globe.