St. Johns Shipbuilding Starts Next CTV for Atlantic Wind Transfers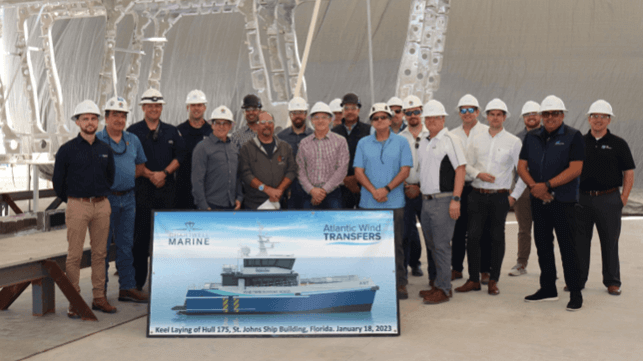 On Friday, St. Johns Ship Building held a keel laying ceremony for its second crew transfer vessel (CTV) for Rhode Island-based Atlantic Wind Transfers (AWT). The Chartwell-designed aluminum catamaran can transport 24 people to and from offshore wind turbines for repair and service operations, and AWT has ordered a series of six from St. Johns' yard in Florida.
The "Ambitious" class, Chartwell Marine's top end CTV design for AWT, will be Jones Act-compliant Subchapter L boats. Atlantic Wind Transfers expects that they will be busy on the water from day one. "AWT and its team are looking forward to launching these CTVs in the months to come and putting them right to work," said Charles Donadio, Jr., AWT's founder.
AWT currently operates the only two crew transfer vessels in the U.S., serving the Block Island Wind Farm for Orsted and the Coastal Virginia Offshore Wind Farm (CVOW) for Dominion Energy.
"We are very pleased to earn the trust of Charles Donadio, Jr. and the teams working with Atlantic Wind Transfers. This keel laying ceremony represents the second Chartwell-designed Ambitious now under construction as we work hard to keep facility and infrastructure improvements just ahead of our construction goals," said Jeff Bukoski, President of St Johns Ship Building and VP of Business Development of Americraft Marine Group.
Last year, St. Johns Ship Building was acquired by Americraft, a subsidiary of privately-held Libra Group. "There is huge demand for Jones Act vessels to be built and there are not enough yards to do it," Libra Group chairman and chief executive George Logothetis told Reuters at the time. The company plans further investments in American shipyards serving renewable energy projects.