Spanish Dockers Begin Series of Strikes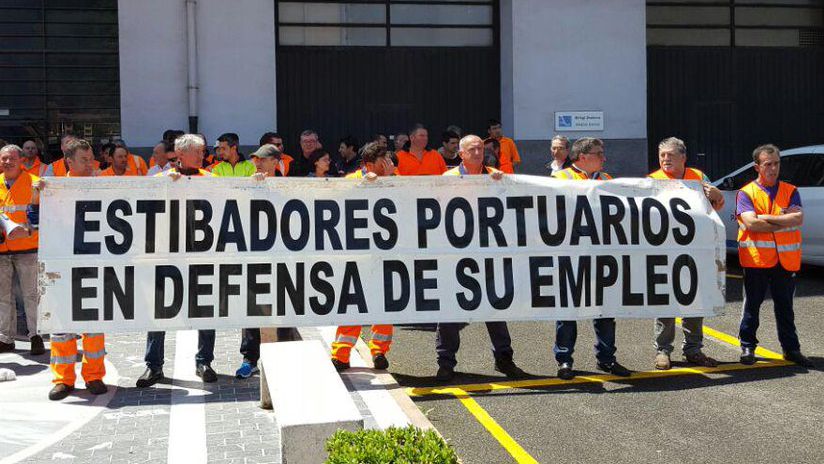 The first day of rolling dockers' strikes at Spain's seaports slowed cargo movement at Algeciras, Valencia, Bilbao, Seville and Santander, with significant implications for the nation's economy. The port authority for Vigo estimated that local damages were in the range of $45 million per day, and the effects are expected to continue this week as truck traffic accumulates at backlogged terminals.
Dockers halted work every other hour beginning at 0900 hours on Monday, and both labor and Spanish government sources said that worker participation was at nearly 100 percent. The workers stayed on-site during the stoppage hours and maintained minimum-level services for refrigerated goods and other time-sensitive cargoes.
"We have told [members] to comply with the minimum services, and to comply with the agreed working hours, working at normal pace, as we have been doing habitually, except for the hours of unemployment that follow," said Israel Ruiz, the leader of longshore union UGT Estiba.
In an advisory, Maersk Line said that the SL Illinois, MSC Ilona and Madrid Maersk would omit Algeciras on their current voyages and would call at alternate ports. The line advised that restrictions on cargo operations and opening hours would vary from terminal to terminal, and it is maintaining a list of the expected conditions at each location.
Shippers and carriers had hoped that a previous framework agreement between union representatives and port employers association Anesco would head off a series of strikes. However, leading dockers union Coordinadora Estatal de Trabajadores del Mar (CETM) has accused Anesco of abandoning its promise to forgo layoffs during upcoming port sector reforms. CETM gave the green light to the strike Monday and said that a series of six more are likely if Anesco does not return to the table and agree to the guarantee. The next strikes will hit on June 7, 9, 14, 19, 21 and 23, including a full 48-hour stoppage next Wednesday and Thursday.
The dispute stems from a recently approved decree law that deregulates labor arrangements at Spanish ports, paving the way for the substitution of non-union labor. The Spanish parliament voted against the decree in March after longshore unions threatened strikes, but it approved a revised version in May. The decree's passage brings Spain into compliance with an EU court ruling that requires liberalization, heading off the prospect of steep fines. Spain's 6,500 longshoremen and their union representatives strongly opposed the measure.