Singapore Tugs: LNG First, Autonomy Next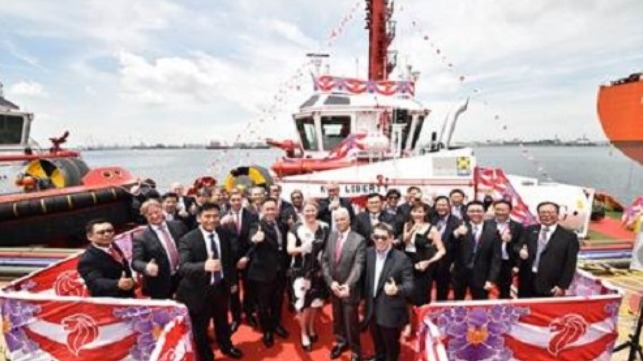 Royal Boskalis Westminster joint venture Keppel Smit Towage has named its first LNG dual-fuel harbor tug - the first such tug in the port of Singapore and Southeast Asia.
The 65-ton bollard pull LNG dual-fuel azimuth stern drive tug named KST Liberty was built by Keppel O&M using the yard's proprietary design.
The LNG fuel is carried in containerized, type-C ISO-certified tanks on the main deck, and re-fuelling can be done by truck to ship operations or replacing the empty tanks with replenished ones. The fitted LNG tanks will allow for extended harbor operations without the need for re-fuelling, enhancing operational efficiency. The tug is also equipped with a patented LNG vaporizer. She is more compact that other tugs of the same bollard pull, with enhanced maneuverability, says Keppel O&M.
Shell will be supplying the LNG fuel to KST Liberty while FueLNG, a joint venture between Keppel O&M and Shell Eastern Petroleum, will be providing the LNG bunkering services. Bunkering will be conducted at Jurong Port. Singapore aims to make LNG bunkering widely available as early as 2020.
Keppel O&M is currently building a further six dual-fuel vessels and also signed a Memorandum of Understanding with the Maritime Port Authority of Singapore (MPA) and the Singapore Technology Centre for Offshore and Marine this week to jointly develop autonomous tugs for a variety of applications including harbor operations such as channeling, berthing, mooring and towing operations.
The development and application of autonomous vessels could potentially automate operations and enhance safety and productivity, says the yard which will initially use its remote vessel monitoring and analytics program VesselCare as the base platform. VesselCare is able to perform data consolidation, condition based monitoring and maintenance, data mining and analytics.
The project aims to develop a digital twin of the tug to simulate vessel behavior to help optimize vessel operations. The Technology Centre for Offshore and Marine will provide expertise in coupled physical-numerical modeling and simulation to evolve solutions that improve the predictability and control of the vessel.