Shipping Backup Begins to Clear as Turkey Reopens Dardanelles Strait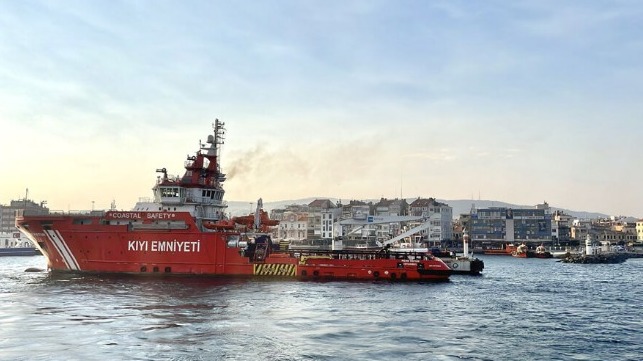 Late on Thursday, August 24, Turkish officials declared that the Dardanelles had reopened to two-way traffic. The critical shipping lane linking the Mediterranean, Aegean, Sea of Marmara, and the Black Sea was closed on August 22 as a raging wildfire threatened the area near the Çanakkale Strait.
Shipping officials in the region reported that a large backup was building at both ends of the shipping channel which at its narrowest point near Çanakkale is less than three-quarters of a mile across. Turkish officials admitted that more than 150 ships were waiting while private sources told Reuters and Bloomberg that more accurately it was 250 to 300 ships waiting at the northern and southern entrances to the channel.
Among the vessels caught were a growing number of tankers and dry bulk carriers. Industry executives said that shipping rates into the Black Sea had already increased 10 percent as a result of the closure.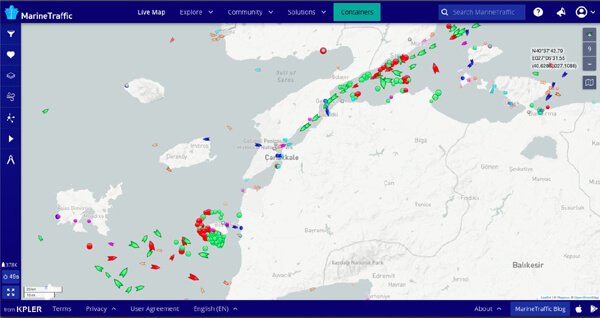 Traffic building as the sea lane near Çanakkale was closed (Marine Traffic/Twitter)
The fire began midday on Tuesday and rapidly spread fanned by winds at over 40 mph along with high temperatures, and dry air. Turkish officials said that more than 2,700 personnel had been dispatched using helicopters, planes, and fire trucks. A total of 11 villages were evacuated including a university campus as the fire covered more than 3,700 acres. It was also approaching a state hospital and officials also announced that they were turning off gas pipelines fearing they would overheat and explode.
The transport ministry said the Dardanelles was closed so that the helicopters could lift water from the seaway and protect ships from the air drops as well as the potential that the fire would continue to spread. A fireboat was positioned at the city dock in Çanakkale.
Initially, they had reported that the seaway would be reopening late on Tuesday, but a few hours later they reversed the decision saying that all traffic was again suspended. They again briefly let traffic proceed in one direction to the south before suspending operations. Late on Wednesday, they said firefighters had been successful in containing the fire and planned to fully reopen the shipping lane.
Ships are again moving in both directions between the Aegean and the Sea of Marmara. They were hoping to clear the backlog in the next few hours.