Ship Repair Company Titan Sold to Texas Private Equity Firm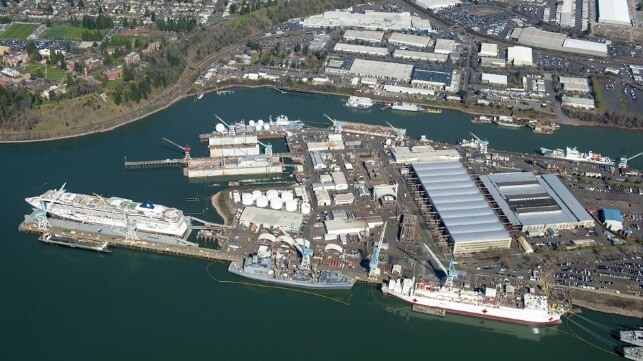 Three and a half years after investing in the ship repair industry and moving to consolidate the industry, famed Wall Street investment firm Carlyle Group and its partner Stellex Capital Management have agreed to sell the company they formed, Titan Acquisition Holdings, to an affiliate of Texas-based Lone Star Funds. Bloomberg is speculating that the transaction is valued at around $2 billion and continues the trend of private equity acquisitions of defense-related companies.
Carlyle and Stellex began their efforts to consolidate the sector in July 2019 when they announced the merger of two American shipyard firms, Oregon-based Vigor Industrial and Norfolk-based MHI Holdings. Just over six months later they announced the acquisition of Huntington Ingalls' San Diego Shipyard relaunching Continental Maritime of San Diego as one of the largest fleet service and repair sites in America, located in one of the nation's largest Navy ports.
"From the moment Stellex acquired MHI in 2015, we have partnered with management to capitalize on changing market dynamics to build a stronger company to further serve customers with quality and reliability," said David Waxman, Managing Director of Stellex. "The result of our investment focus was the combination of MHI with Vigor and the formation in 2019 of Titan, now a bi-coastal leader in critical ship repair services, and commercial and defense-related fabrication services."
Today, Titan is comprised of Vigor Industrial, an infrastructure, defense, and maritime services company based in Portland, Oregon, MHI Holdings, a ship repair, maintenance, and other ship husbandry services company based in Norfolk, Virginia, and Continental Maritime of San Diego. Vigor operates seven locations in the Pacific Northwest and Alaska providing ship repair, complex fabrication, and marine vessel fabrication. MHI is based in Norfolk, Virginia, and consists of three major providers focused on ship repair and conversion, underwater hull cleaning and ship husbandry, and environmental services.
Among Titan's customers are the U.S. Navy, U.S. Coast Guard, Military Sealift Command, ferry services for local and state governments, and other key commercial U.S. Government customers. They also serve commercial customers including Boeing, Northrop Grumman, Lockheed Martin, cruise lines, fishing fleets, and barges.
"We are proud of the many accomplishments of the Titan team over the course of our partnership," said Derek Whang, Managing Director at Carlyle. "Titan is well-positioned to maintain its positive trajectory, and we wish the team continued success in its next phase of growth."
"We see this transaction with Lone Star, when completed, as the next step in our evolution, representing a belief on their part that Titan entities are on a steady and positive path to sustainable growth," said Jim Marcotuli who will continue in his current role as Titan CEO. Other company leadership is also expected to remain intact.
The transaction is expected to close in 2023 upon satisfaction of customary closing conditions, including certain governmental approvals.