Service for First African-American Woman to Serve U.S. Coast Guard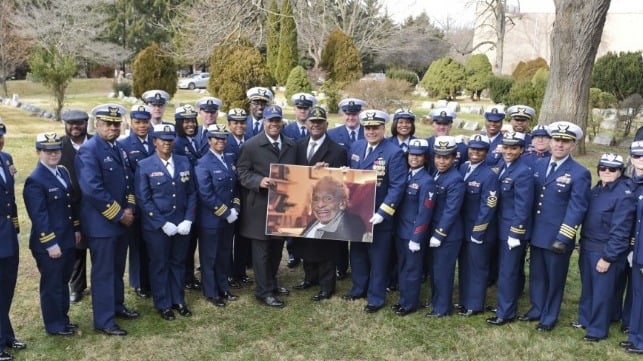 A funeral service was held for the first African-American woman to serve in the U.S Coast Guard Dr. Olivia Juliette Hooker on Wednesday at White Plains Rural Cemetery, White Plains, New York.
Hooker was born on February 12, 1915, in Muskogee, Oklahoma, and passed away on November 21, in White Plains, New York, at the age of 103.
Hooker enlisted in the Coast Guard Woman's Reserve, also known as "Semper Paratus, Always Ready" (SPARs), in February 1945. Upon graduation from basic training, she specialized in the yeoman rating, spending her time stationed at the separation center in Boston. She ultimately rose to the rank of yeoman second class prior to her discharge in June 1946. Hooker later joined the Coast Guard Auxiliary in 2010, volunteering in Flotilla 06-08 in Yonkers, N.Y.
After completing her military service, Hooker went on to earn a master's degree in psychology from Columbia University and a Ph.D. in psychology from the University of Rochester. In the early 1960s, she began a career as a psychologist and a professor of psychology at New York's Fordham University. In 2002, she retired at the age of 87 after a distinguished career in education and mental health care.
Throughout her life, Hooker was an advocate for Americans with developmental and intellectual disabilities, as well as a leader in various civic, community, cultural and educational organizations, including the National Association for the Advancement of Colored People.
As a child, Hooker witnessed the 1921 destruction of the Greenwood section of her hometown of Tulsa, Oklahoma, by vigilantes. Her home and her father's store were destroyed and over 100 people killed in the incident.
"Dr. Hooker was indeed a pioneer, but she was so much more than that," said Joseph M. McShane, president of Fordham University. "She served her country and went on to serve generations of Fordham students as a professor, mentor and role model. That Dr. Hooker did this despite formidable racial and gender barriers only highlights her talents and accomplishments."
A dining facility named in honor of Hooker at Coast Guard Sector New York stands as a lasting reminder of her legacy of service and pioneering contributions in the history of both the Coast Guard and the nation.
U.S. Coast Guard members participate in funeral services for Dr. Olivia Hooker in White Plains, New York, December 5, 2018: