Seized Russian Yacht Fetches $68M Bid From Google's Former CEO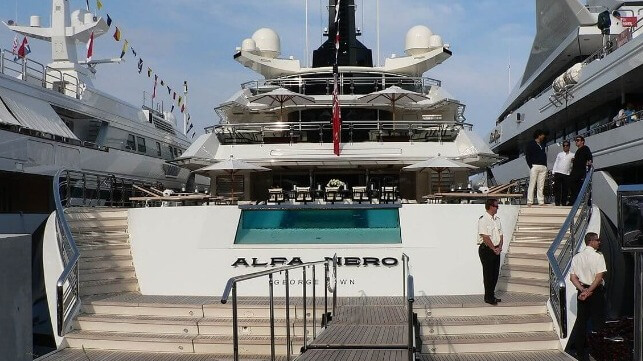 The small island nation of Antigua and Barbuda has auctioned off the Russian yacht Alfa Nero, which was detained last year after the invasion of Ukraine.
Alfa Nero has been linked to the Russian billionaire Andrey Guryev, owner of a Russian fertilizer company and known confidant of Russian President Vladimir Putin. Guryev was sanctioned by the U.S. government in early 2022, so when Alfa Nero appeared in Falmouth Harbor, the FBI arranged with local authorities to raid it and question the crew for evidence of its ownership.
Guryev denied that he owns the vessel, so Antigua seized it as abandoned property and took legislative steps to auction it off. The process moved swiftly, as the government wanted the uninsured superyacht to be sold and removed as soon as possible to minimize risk - especially in advance of hurricane season.
Antigua petitioned the U.S. Department of the Treasury to remove the vessel from its sanctions list in order to clear the way for a sale. With sanctions lifted early this month, the auction proceedings could go forward, and the Antiguan government held the sale as a live televised event on Friday. The next day, Antigua's ambassador to the U.S. declared that the winning offer was submitted by Eric Schmidt, former CEO of Google. The 267-foot superyacht sold for a total of nearly $68 million, about half of its purchase price in 2014.
Schmidt, whose net worth is estimated at about $25 billion, joins an exclusive but growing club of buyers of seized Russian vessels. In August 2022, the government of Gibraltar sold off a yacht associated with Russian billionaire Dmitry Pumpyansky for unpaid mortgage bills, handing ownership to a new (unnamed) buyer. Other future sales could include the U.S.-held megayacht Amadea and the Spanish-held Meridian A, both of which have been linked to sanctioned Russian businessmen.