Search Under Way for Passenger Who "Jumped Off" Cruise Ship off Florida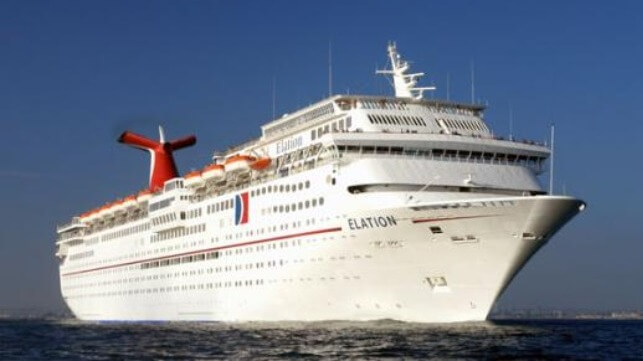 A man-overboard search has been launched for a passenger from a Carnival cruise ship who "jumped" over the side on Sunday, according to the U.S. Coast Guard.
On Sunday afternoon, Canival Elation was under way on a return from a cruise to the Bahamas when a passenger was reported missing. The man had not been seen since the morning. The crew searched the ship without success, a Carnival spokesperson said - but based a review of the security footage, "it was determined that he jumped" over the side.
At 1830 hours Sunday, the U.S. Coast Guard received notice of a man-overboard situation from Carnival Elation and began a search at a position about 95 nm off the coast of Melbourne, Florida. By the time the effort launched, the cruise ship had sailed miles from the location of the MOB occurrence, and it was advised to continue to its home port in Jacksonville.
The U.S. Coast Guard has identified the missing passenger as Jaylen Hill, 30. In a statement, Carnival said that it is providing support to his family.
Assets involved in the search include the cutter USCGC Tarpon, an HC-130J search aircraft out of Air Station Clearwater, and an Ocean Sentry search plane out of Miami.
As of Monday, Carnival Elation had already returned to her homeport, exchanged passengers and departed again on her next commercial voyage.
By law, cruise ship railings must be at least 42 inches in height and cruise ships must maintain a video surveillance system to record any unfortunate man-overboard incidents. Accidental falls are rare, according to the Cruise Lines International Association (CLIA), and most man-overboard cases are believed to be the result of passenger behavior.
Other recent passenger-initiated man-overboard incidents include the loss of a female passenger who jumped off Carnival Valor in February 2022; a man who jumped off Carnival Mardi Gras in April 2022; and a man who jumped off Carnival Horizon in March 2022. Rescue or recovery operations are successful in a minority of cases.