Sea Trials Underway for First Surface-Effect-Ship Daughter Craft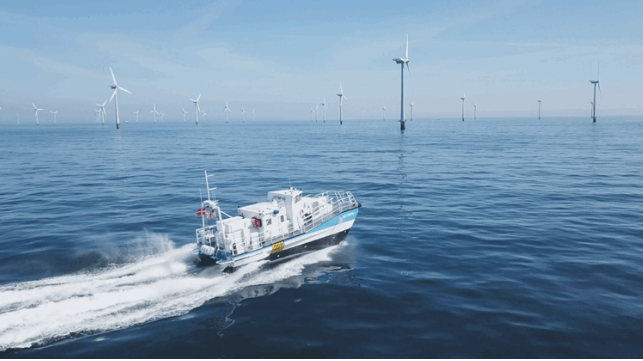 The world's first daughter craft based on surface-effect-ship technology has commenced sea trials at Vattenfall's Horns Rev 1 and Ørsted's Horns Rev 2 wind farms. The Sea Puffin is designed for the harsher weather conditions experienced at wind farms that are located far from shore.
The 15-meter long vessel employs an air cushion for active motion damping, resulting in access capabilities beyond conventional daughter craft vessels, whilst reducing fuel consumption and improving crew and passenger comfort during transit. The compact size also enables vessel deployment using a conventional 15-ton davit crane fitted onto a mothership. The vessel is designed for launch and recovery operations, however the Sea Puffin will be operated from port during this initial phase of testing and operation.
The Sea Puffin is powered by two 230kW diesel engines coupled to water jets. She has a range of 150 miles and a speed of 25 knots, which is expected to be able to be maintained in Sea State 3 conditions.
The Sea Puffin was built at Esbjerg Shipyard in Denmark and delivered to independent shipowner, WindPartner last month. Designed by Norwegian company ESNA, the Sea Puffin received initial support from the Carbon Trust's Offshore Wind Accelerator, and it has continued its support of the Sea Puffin through funding WindPartner to undertake the trials and help get the vessel built and to market.
The vessel is expected to enter commercial operation in mid-August. WindPartner and ESNA have a long-term cooperation agreement and aim to build a series of this vessel type over the next few years.