Sea Ice off Northern Greenland Breaks Up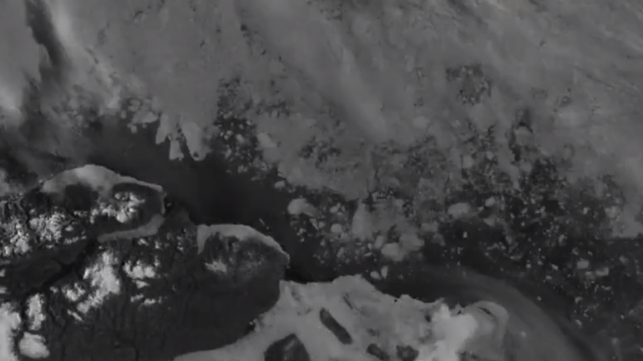 Scientists have long believed that the ice pack on the northern coast of Greenland would be the last year-round sea ice in the Arctic to disappear. Strong currents push ice floes from Siberia to the Greenland Sea, where they pile up into a compacted mass between 12 to 65 feet thick - an impenetrable fortress of multi-year ice that was expected to be more resistant to warming than any other area in the high north.
That theory has been put to the test twice this year, once in February and again in August. For the first time on record, the ice pack off the northern tip of Greenland - an area that includes the northernmost location on land - has broken up and drifted away from the coastline, leaving open water.
Arctic sea ice is once again pulling away from the coast of far northern Greenland. You can easily see this reflected in the current drift circulation: https://t.co/BkhAkJipgm. Sea ice extent in the Greenland Sea has been at or near a record low for most of 2018. pic.twitter.com/zvOEyNpHut

— Zack Labe (@ZLabe) August 6, 2018
"The fact that it has become mobile shows it is thinner than it used to be and this last holdout of heavy ice is now becoming as mobile as any other part of the arctic," said Professor Peter Wadhams, a leading sea ice researcher and the head of the Polar Ocean Physics Group at Cambridge University, in comments to the Independent. "The only zone where multi-year ice has survived [in the Arctic] is north of Greenland, but this last holdout is now opened up and moving away from the coast."
Sea ice extent in the Greenland Sea has been at or near record lows for most of the year, and Atlantic-side ice cover has set record low levels for two years running. Scientists say that the development has negative implications for polar bears and seals, which rely upon the ice for hunting and habitat.
However, like the recent reductions in ice extent along the Canadian and Russian arctic coasts, it could also bring benefits for shipping: when summer sea ice disappears from the Arctic altogether, as expected by mid-century, vessels may be able to use routes directly across the pole to journey between the Bering Strait and the Greenland Sea. A transit from Yokohama to Rotterdam via the North Pole would be just 6,400 nm, about half of the 12,500 nm distance via the Panama Canal. Simulations suggest that this could be an option for light ice-class vessels (and potentially for ordinary merchant ships) as early as 2040, assuming a business-as-usual CO2 emissions scenario.