Scottish Government Steps In to Save Ferguson Marine Shipyard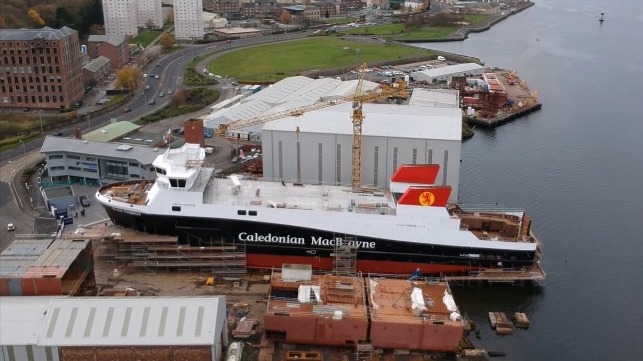 The government of Scotland is preparing to intervene to save Port Glasgow's Ferguson Marine shipyard from bankruptcy, according to economy secretary Derek Mackay. The yard could enter administration as early as the end of this week if it does not receive an intervention, and the government of Scotland has signaled that it will likely purchase it and take it into public ownership.
Cost overruns on two hybrid-powered ferries for state ferry operator Caledonian Maritime took a toll on the yard's finances, and Ferguson's owner, investor Jim McColl, has blamed Caledonian for failing to cover the additional cost of design change orders. Neither party has agreed to pay the full cost of what McColl describes as a 60 percent increase in the projected cost of construction.
McColl's holding company, Clyde Blowers Capital, proposed last month that the government should purchase a share of the yard in order to help it stave off bankruptcy. The Scottish government has already provided Ferguson with a $55 million loan, and at the time, ministers rejected the option of paying more for an equity stake. Mackay indicated Monday that the government has since reversed its decesion.
"The Scottish Government has been working for over two years to find a resolution to the difficulties at [Ferguson Marine]. Throughout that time our preference has been to identify viable commercial options to keep the yard going and to finish the vessels. No such solutions have come forward," Mackay said. "The Scottish Government has now indicated to all relevant parties that we are ready and willing to take Ferguson Marine into public ownership and deliver the ferries to secure the continued employment of the workforce in the yard."
Mackay called on all parties to complete the transfer of the yard's ownership to the government as quickly as possible. "It is essential the government acts now to secure the completion of the ferries and continuity of employment at Fergusons," he said.
The yard is the second UK shipbuilder to approach (or enter) bankruptcy within the span of a week. Famed Belfast-based shipyard Harland and Wolff, the builder of the Titanic and many other storied ocean liners, entered administration last week. The accounting firm that has taken over its management has given Harland and Wolff until next Friday to find a buyer. Up to 120 jobs at the yard could potentially be affected, and the workers' union has called for nationalizing the facility to preserve its capacity.