Saudi Forces Find More Naval Mines Off Yemen
On Monday, the Royal Saudi Navy announced that its forces have located more floating mines off the coast of Yemen, likely placed by Houthi rebel militias.
The latest mine sightings were off of Midi, a port on the Red Sea just south of the Yemeni-Saudi border. The Saudi military said that the mines were of simple construction, but they could pose a threat to civilian maritime traffic, including aid vessels.
In mid-March, a Yemeni coast guard ship struck a mine near the port of Mokha, about 40 nm to the north of the strategically important Strait of Bab al-Mandeb. The ensuing blast killed two servicemembers and wounded eight. The Saudi navy said that it disabled several more naval mines near the port later in the month; images posted to social media at about the same time claim to show improvised mines recovered from Yemen's Red Sea coast (below).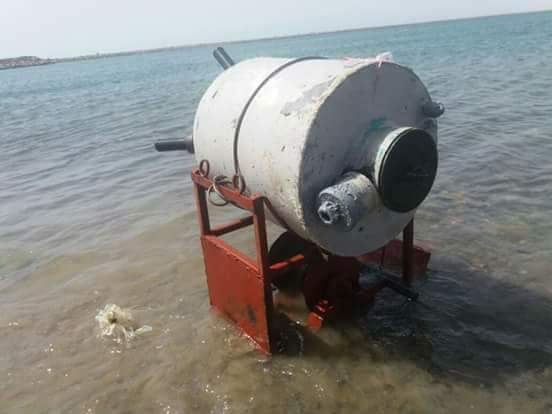 In March, the U.S. Office of Naval Intelligence issued a warning to merchant shipping regarding the possible presence of naval mines in waters off the west coast of Yemen. "We officially have great concern for the freedom of navigation there," said Defense Department spokesman Jeff Davis, in an interview with Stars and Stripes earlier this year. Likewise, the UKMTO advises that "masters should consider increasing vigilance, maintain the furthest possible distance from the Yemen coast, transit the Bab el Mandeb strait during daylight hours and use the western TSS wherever possible."
Floating mines are just one of several new threats to shipping in the region, in addition to Houthi missile attacks on naval vessels, the continued instability in Yemen and resurgent Somali piracy in the Gulf of Aden and the Western Indian Ocean. EU military sources recently told Reuters that Yemen's civil war is actually facilitating the recent outbreak of pirate attacks. "The price of weaponry has markedly reduced. So, if you are trying to get hold of a certain weapon, it might [be] easier now and cheaper and that could have an impact on criminal actors in Somalia – some of whom might wish to return to piracy," said Colonel Richard Cantrill, chief of staff with EU NAVFOR.