Sanctions on UC Rusal Hit Shipping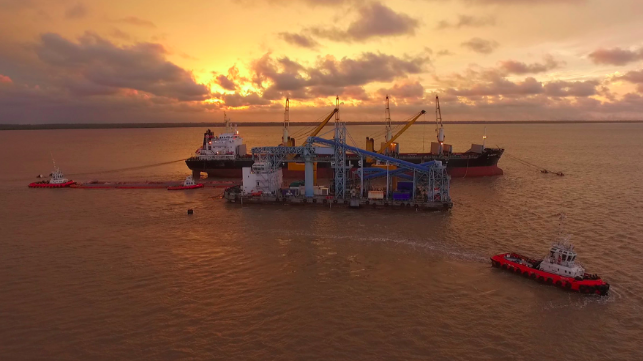 New American sanctions on Russia over the Kremlin's interference in the last U.S. presidential election are having a direct effect on shipping. The measures have forced one vessel operator to close part of its business: German bulker operator Oldendorff has suspended all of its operations in French Guyana due to an American ban on a Russian aluminum company.
On April 6, the U.S. Treasury imposed new sanctions on seven politically-connected Russian oligarchs, 12 companies and 17 senior Russian officials. Among others, the measures affect aluminum magnate Oleg Deripaska and one of his firms, United Company Rusal, which produces about seven percent of the world's aluminum. The Rusal-owned Bauxite Company of Guyana Incorporated (BCGI) extracts aluminum ore in Guyana, and Oldendorff handles its cargoes. Due to sanctions on Rusal, Oldendorff can no longer do business with BCGI without risking compliance problems, and the firm said in a statement that it will "fully comply with U.S. sanctions and therefore will be winding up its business in Guyana."
Oldendorff has a fleet of purpose-built tugs and barges to serve BCGI's inland waterway operations, and it said that it is still determining what it will do with these vessels. The government of Guyana is in discussions regarding assistance measures for affected Oldendorff and BCGI employees.
Oldendorff is not the only vessel operator impacted by the sanctions. Maersk and MSC, the two largest ocean carriers, have announced that they will no longer conduct new trade with any of the Russian entities covered by the sanctions, including Rusal.
The measures will also have an impact on trade routes for aluminum and bauxite, and on the flows of aluminum products: the sanctions have sent the London Metal Exchange price of aluminum up 30 percent in two weeks, leading to warnings from manufacturers about the effects on prices for consumer goods.
Chinese trade barriers redirect cargoes
On Thursday, Reuters reported that several bulkers carrying American sorghum to China had rerouted after Beijing's latest round of punitive trade restrictions on U.S. agricultural products. The agency found that at least five vessels immediately changed course after the announcement of the trade measures on Tuesday. If the cargoes had arrived in Chinese ports, they would have been subject to a deposit requirement equal to 180 percent of the shipment value. Sorghum is used for livestock feed and for producing baijiu, a strong grain alcohol that is widely popular in China.
China has been rolling out new trade restrictions on American products in response to the Trump administration's threats to impose tariffs on up to $150 billion in Chinese goods. The deposits for sorghum could be just the overture to a much bigger trade action - a proposed 25 percent tariff on American soybeans. China buys roughly half of all U.S. soybean exports, about $14 billion worth per year, making it a key market for American farming communities.