Salvors Will Right the Sewol to Search for Remains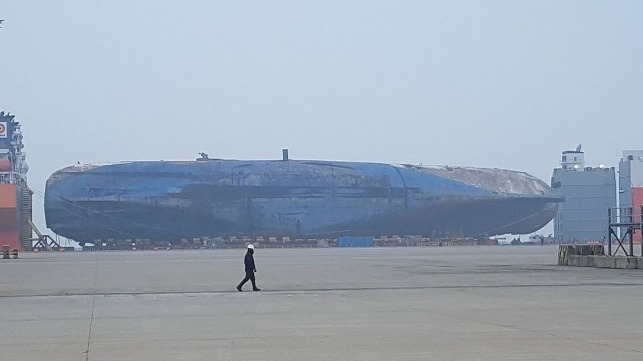 This coming Thursday, salvors will turn the wrecked hull of the ferry Sewol upright in order to continue the search for the remains of five missing victims.
Under the supervision of the government's Sewol Investigation Committee, 33 steel beams have been installed under the 6,800 tonne vessel, and the salvage team is waiting for optimal weather conditions. While the wreckage is on land, the lift will require the use of a floating crane alongside the pier, meaning that surface conditions will play a role in the evolution. Officials expect to complete the lift, secure the hull in place and remove the beams on the same day.
304 students, passsengers and crewmembers died in the sinking of the Sewol when she went down in April 2014. The remains of 299 have been found, including three recovered from the wrecked hull after an unprecedented $130 million effort to raise the ferry and transfer her onto the dock at Mokpo. The fragile wreck was raised from the bottom on its side, the attitude it came to rest at the time of the sinking, and was transferred to shore without righting.
The tragic accident holds deep significance in South Korea, and the government's allegedly slow response was a key political factor in the impeachment and removal of former president Park Geun-hye. She is now serving 24 years in prison on unrelated charges of corruption and abuse of power.
In a measure of the continued role that the disaster plays in Korean politics, the government of President Moon Jae-in held a memorial service on April 16 that attracted 5,000 attendees. Prime Minister Lee Nak-yon, Minister of Oceans and Fisheries Kim Young-choon, Education Minister King Sang-kon, Gender Equality Minister Chung Hyun-back and the leaders of four leading political parties were all present.
President Moon could not attend, but he promised that his government would get to the bottom of the causes of the Sewol's sinking. A previous investigation determined that the vessel capsized due to a decision to overload her and a retrofit that left her topheavy, but in response to public pressure, Korea's legislature has authorized Moon to reopen the case.