Sailboat Attacked and Disabled by Orcas in Strait of Gibraltar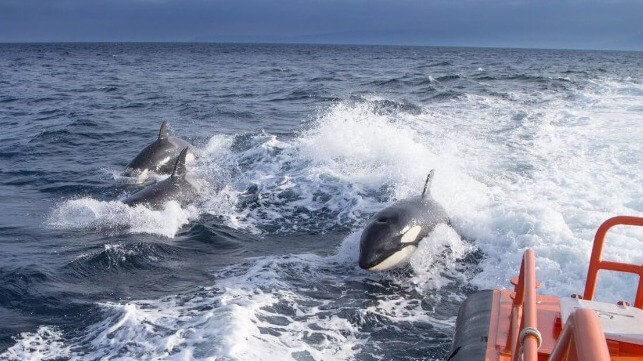 The Strait of Gibraltar's notorious orcas are back. This week, another sailboat was disabled off Cape Spartel by killer whales who attacked it until they had broken its rudder - a pattern all too familiar to sailors in the region.
Early on Monday, the crew of the sailboat Larios made a distress call and reported that their vessel was disabled. They had come into contact with three orcas and had lost their rudder. Salvamar Maritimo dispatched the rescue boat Salvamar Arcturus from the port of Tarifa to give them assistance, and the Arcturus towed them all the way to Barbate for repairs.
There has never been a documented fatal attack on a human by an orca in the wild, but orcas have been knocking into sailboats off the Strait of Gibraltar and the coast of Galicia for years. Between July and October of 2020 alone, there were at least 40 reported orca incidents involving sailboats off Spain and Portugal. The attacks have a specific pattern: the orcas always target the rudder, and often cause the boat to swing through a wide arc. The vessels targeted are always sailboats under 15 meters in length.
From reviewing video footage from the sailboat incidents and analyzing the scars on the orca's bodies, marine scientists with research center CIRCE determined that three specific individuals are involved, all teenage males. Identified from research surveys as Gladis Black, Gladis White and Gladis Gray, they all belong to the same family pod, and they appear to be engaging with sailboats as a form of entertainment.
"From what I'm seeing, it's mainly two of those guys [the Gladises] in particular that are just going crazy," marine biologist Dr. Renaud de Stephanis told the BBC. "They just play, play and play. . . . It just seems to be something they really like and that's it."
The interactions continued last year: in July 2022, two boats were disabled with rudder damage in quick succession off Galicia, and one had to call for a tow from Salvamento Maritimo.