RRS Sir David Attenborough Launched
The U.K's polar research ship RRS Sir David Attenborough was launched into the River Mersey on Saturday July 14.
Once in the river, tugs towed the 129-meter (423-foot) 10,000 ton hull hull to Cammell Laird's wet basin for the next stages of construction. The polar research ship is scheduled to commence operation in 2019.
More than 3,000 shipyard workers, engineers, scientists and maritime industry experts gathered with special guest speakers, including world-renowned broadcaster Sir David Attenborough, to celebrate.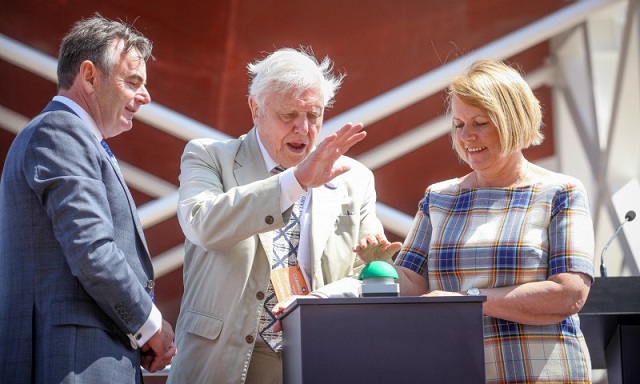 Commissioned by the Natural Environment Research Council (part of U.K. Research and Innovation), built by Cammell Laird and operated by British Antarctic Survey, this is the biggest shipbuilding contract in Britain in 30 years.
The RRS Sir David Attenborough is a multi-purpose vessel combining scientific research with Antarctic base supply duties. Facilities onboard include a 4x4m clear opening moonpool to deploy subsea equipment, 650 square meter deck space and an enclosed science hangar to house containerized laboratories. Designed to IACS Polar Class PC4 rules, the ship will be able to break on-meter-thick ice at up to three knots. The diesel / electric propulsion has been selected to have ultra-low environmental impact including careful management of all emissions and noise.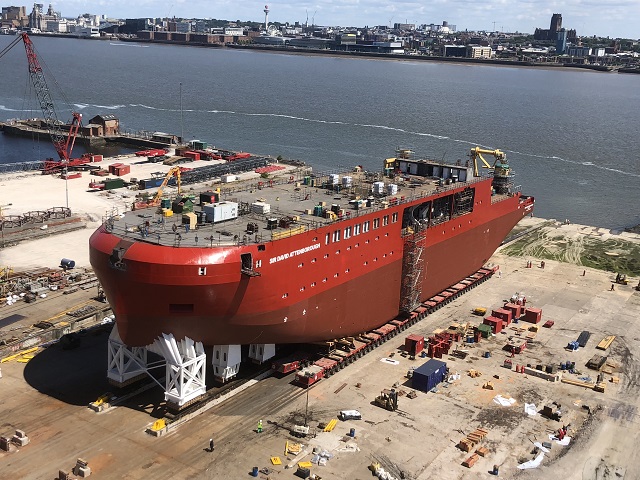 The new research ship is part of a Government polar infrastructure investment program which represents the U.K. Government's largest investment in polar science since the 1980s. Keynote speaker the Rt Hon Claire Perry MP, Minister of State for Energy and Clean Growth says: "The Government's £200 million investment in polar research will allow us to gain a crucial insight into polar oceans to combat the devastating effects of climate change, and through our commitment to clean growth, we are putting vital science and innovation to mitigate global warming at the heart of our modern Industrial Strategy."
Special guest Sir David Attenborough, who turned 92 this year, said: "Britain began exploring the Antarctic over a century ago when it seemed to be an empty wilderness of little importance to the world as a whole. Now we recognize that what happens at the Poles is of the greatest importance to everyone, everywhere."
Cammell Laird CEO John Syvret CBE thanked organizations in the supply chain including Rolls-Royce, Lloyd's Register and Houlder. As experts in ship construction, and ice class design in particular, Houlder worked with the British Antarctic Survey and the Natural Environment Research Council initially through the vessel's concept design and technical specification. The company went on to provide technical support to the procurement process that selected Rolls Royce and Cammell Laird as designer and constructor respectively. Since then, Houlder has provided shipyard supervision and client representation services through its technical support contract. Houlder has also deployed its personnel further afield, to Norway and Vietnam for example, to test and accept major equipment from the wider supply chain.