Royal Navy Plans "Clearance" Sale Starting with Four Decommissioned Ships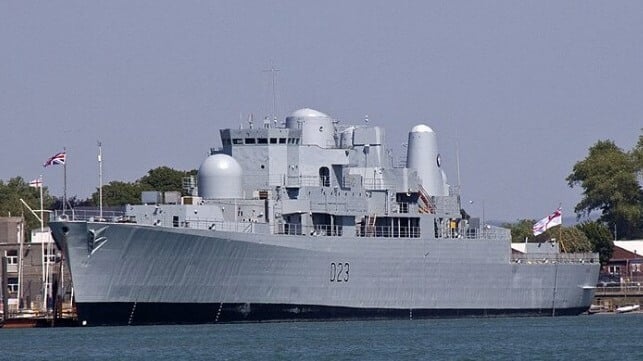 The UK Royal Navy, through the UK Defence Equipment Sales Authority (DESA), is going to attempt a large clear out to get rid of excess tonnage that it has been holding on to for years. The agency holds in effect "boot sales" within its unique government role, specializing in the sale of surplus equipment. Over the next five years, according to a newly released video (see below) the agency will be selling off, Batch 1 Offshore Patrol Vessels, Hunt Class Vessels, and Survey Vessels, but for now it is started with a rag-tag lot of four old ships.
DESA was established to offer an alternative way for "customers" and international governments to acquire proven capabilities in a cost-effective manner. The agency handles the disposal of all materiel that can generate revenue within the UK and overseas, citing for example, aircraft, aircraft spares, ships, boats, river craft and other marine vessels and spares, military and domestic vehicles, except nuclear, domestic waste, and infrastructure.
Next up in their garage sale (or maybe in this case dry dock sale) for the agency are four decommissioned Royal Navy warships. It is not the first time the Royal Navy has tried to clear house of some of these vessels. They are going to be offered for parts, dismantling, and recycling only and will only entertain proposals from European Union-approved companies to bid for the ships.
In the notice, the UK Defence Equipment Sales Authority is inviting yards to buy the former naval ships HMS Montrose, Monmouth, Bristol, and Walney for the sole purpose of recycling. The decommissioned vessels, which are moored at HM Naval Base Portsmouth, will be sold as four lots.
"MOD will not pay for the recycling of these ships," said the preliminary notice, adding that the issue of the notice is not a commitment by the Secretary of State for Defence to commit to a sale, a disclaimer that the sale of any one of the ships may be discontinued at any time. However, expressions of interest are due by October 23. Viewings of the vessels are expected to take place on October 23 and 24, with the confirmed dates and times will be included within the Invitation To Tender.
Decommissioned in April this year after 30 years of service during which it clocked up more than 400,000 miles, the Type 23 frigate HMS Montrose earned fame for drug busts and seizures of illegal shipments of missiles in the Gulf of Oman and the Indian Ocean. HMS Monmouth, another Type 23 warship that was decommissioned in 2021, traveled more than half a million miles and visited over 200 ports.
HMS Bristol, which was the only Type 82 destroyer ever built for the Royal Navy, was decommissioned in 2000 after 47 years of service, half of which she served as a harbor training ship. In 2021, DESA put the frigate up for sale for recycling, but the process was never completed. Minehunter HMS Walney is another vessel that has in the past been put up for sale at a price of £30,000 ($37,504) having been decommissioned in 2010 after servicing for 19 years.
Only 48 yards can bid for the vessels as the DESA says it will only accept expressions of interest from recycling companies that are included within the current European List of ship recycling facilities. In July, the European Commission adopted the 11th edition of the European List of ship recycling facilities, putting the number of yards approved to dismantle vessels under strict safety, health, and environmental conditions at 48. Of the approved yards, 38 are in Europe (EU, Norway, and UK), nine yards are in Turkey, and one yard is in the U.S.
Video released by DESA to promote its upcoming asset sales
Top photo of HMS Bristol in 2011 by Tony Hisgett - CC BY 2.0 license