Royal Navy Nuclear-Missile Sub Accidentally Dove to "Danger Zone"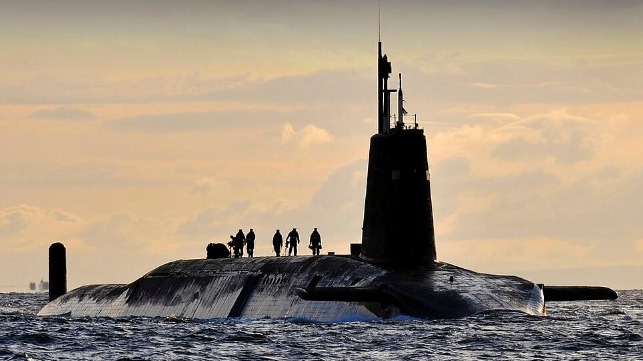 A Royal Navy nuclear ballistic missile submarine nearly kept diving towards it maximum rated operating depth because of a malfunctioning gauge, according to The Sun.
The Vanguard-class submarine was under way for a patrol with Trident ballistic missiles on board. Its crew intended to navigate at a set depth, and believed that they were doing so, but the submarine was actually diving deeper. A malfunctioning gauge led the bridge crew to believe (incorrectly) that they were still on a level plane.
As the sub continued to dive towards its "danger zone" rating depth, the engineering crew noticed on their own depth gauge that the sub was descending. They raised the alarm and alerted the navigation team - and may have saved their ship.
"It's not the engineers' job to control the sub's depth but they saw how deep they were and realized something was wrong," an inside source told UK tabloid The Sun. "Technically the sub was still at a depth where we know it can operate, but if it ever has to go that deep the whole crew is piped to action-stations."
A spokesperson for the Royal Navy declined to confirm or deny the incident, saying only that safety is the service's top priority and that its subs continue to meet commitments.
According to The Sun, a safety review has been launched.
The vessel in question was a Vanguard-class submarine, one of four nuclear missile-carrying subs operated by the Royal Navy. The oldest has been in commission for 30 years, and the newest has been running for 24. At least one Vanguard-class is at sea at all times to maintain continuous second-strike deterrence. The subs typically operate with 140 crewmembers aboard, and can carry up to 16 Trident missiles, each fitted with up to four nuclear warheads. At present, two of the subs are in shipyard or refit status.
Earlier this year, the Royal Navy discovered a repair defect aboard the first-in-class sub HMS Vanguard. The issue was caught and repaired before the sub reentered service, and it had no nuclear safety implications even if it had gone unrepaired, according to the UK Ministry of Defense. The details, according to The Sun, involved bolt heads that had been snapped off and glued back on.
The Vanguards are due for replacement in the 2030s when the future Dreadnought-class comes into service.