Royal Navy Museum Seeks Help to Save Artifact From Franklin Expedition
The Royal Navy's museum is asking for help in recovering a valuable historical artifact from the era of Arctic exploration.
When Sir John Franklin disappeared with 129 men on a quest to find the Northwest Passage in the late 1840s, the UK government dispatched multiple search missions to find them. Two of these rescue efforts were led by Capt. Henry Kellett, and the personal flag that Kellett flew on his sledge survived in private hands. It is a rare memento of the age of 19th-century British exploration, and the owner plans to sell it for approximately $140,000. However, it is so important to British history that the UK government temporarily banned its export in order to give the National Museum of the Royal Navy enough time to raise the funds to buy it. With just weeks to go, the museum is still nearly $50,000 short, and it is reaching out to the public for help in acquiring the needed funds.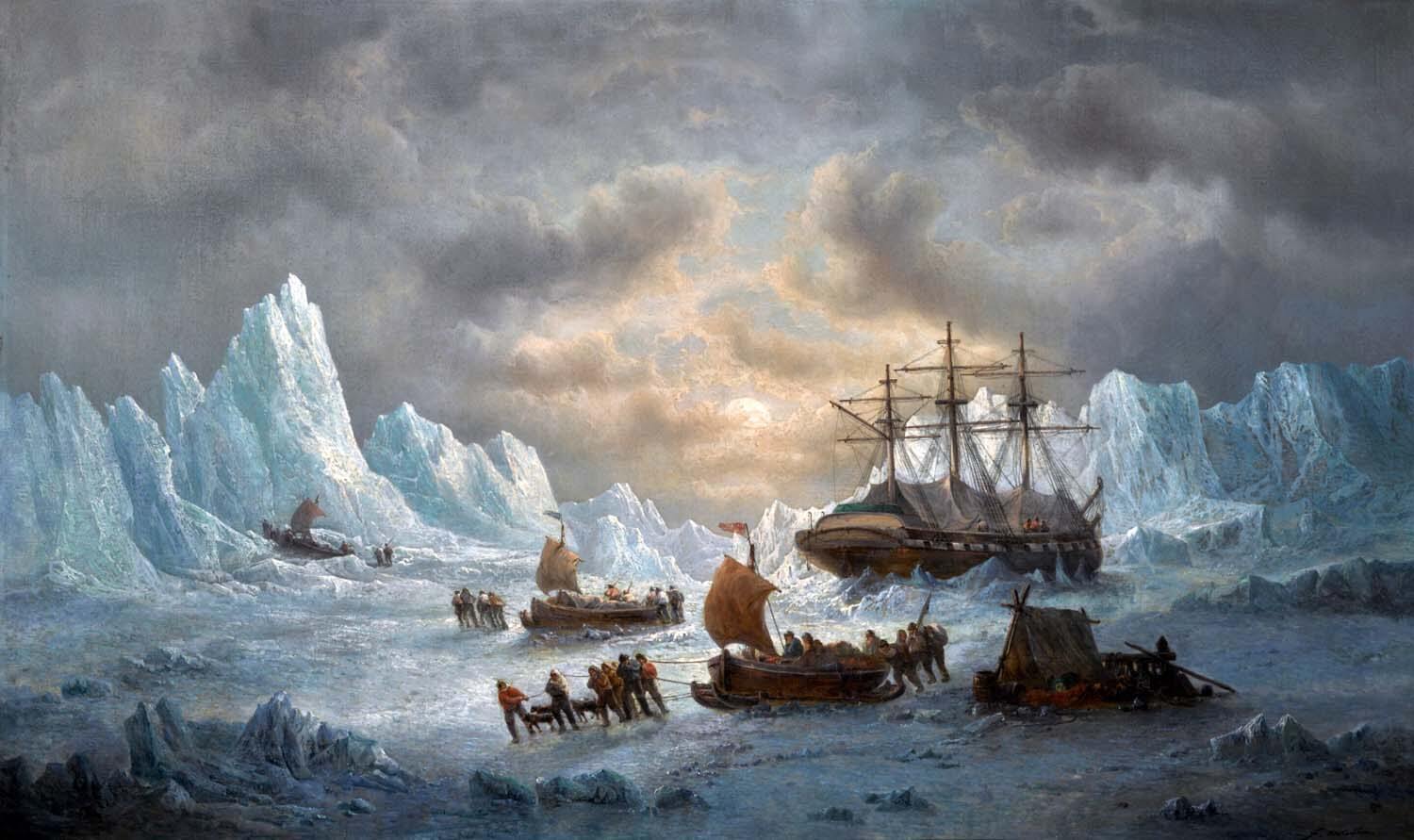 A painting of Kellett's sledge party departing to search for the Franklin expedition (Francois Musin)
"It's so important because there are only half a dozen of these surviving from this period in polar exploration," the museum's Prof. Dominic Tweddle told the BBC.
The fundraising drive has the backing of British TV personality Michael Palin, who wrote a bestselling book on Sir John Franklin's expedition, along with English historian Dan Snow, who says Kellett's flag "is a part of our national story and it should be here for us all to learn from and be inspired by."
Kellett's search expeditions did not find Franklin or his two ships, but did manage to find and map areas previously unexplored by Europeans, including Herald Island in the Chukchi Sea. As for Franklin and his men, their ships had been beset by ice years before Kellett ever set out, and all died from disease, exposure and other causes while attempting to return to civilization. A British exploration party learned of their demise from local Inuit in 1854, but the wrecks were not located until 2014 and 2016.
If secured for the museum, Kellett's flag will complement historical artifacts newly-retrieved from the wrecks of Franklin's ships, HMS Erebus and HMS Terror. Parks Canada has been carefully exploring the wreck sites and recovering historically valuable items preserved by the cold water.