Royal Navy Escorts Russian Carrier Through Channel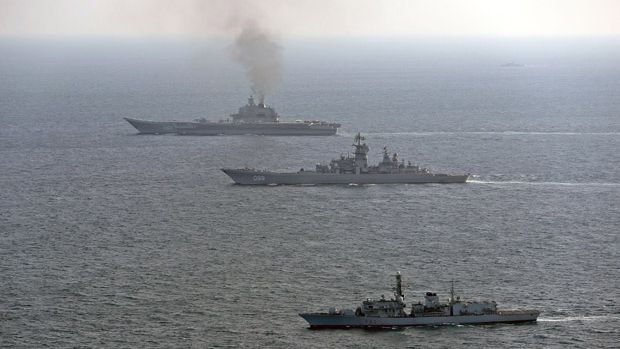 The Royal Navy is closely tracking the Russian carrier Admiral Kuznetsov as she transits the Channel on her return from Syria. The frigate HMS St. Albans is "man-marking" the Kuznetsov, the cruiser Pyotr Veliky and the fleet salvage tug that accompanies the battle group on longer voyages.
"We will keep a close eye on the Admiral Kuznetsov as it skulks back to Russia; a ship of shame whose mission has only extended the suffering of the Syrian people," said UK defense secretary Michael Fallon. "We are man-marking these vessels every step of the way around the UK as part of our steadfast commitment to keep Britain safe."
"This tasking demonstrates the Royal Navy's commitment to protecting our home waters and readiness to undertake short-notice operations. The movements of the Russian ships are being continually monitored in a coordinated response between the Royal Navy, RAF and our NATO partners," said Chris Ansell, the commanding officer of HMS St Albans. "My ship's company of 190 sailors take great pride in the role they play as one of the UK's on-call warships to deal with this type of situation."
The Kuznetsov passed through the Channel in October on her voyage to the eastern Mediterranean, drawing considerable attention from NATO, the UK government and the general public. On arrival off Syria, the Kuznetsov's air wings participated in the bombing campaign over Aleppo, despite repeated Russian assurances that the carrier was deploying for routine purposes. After the end of major combat operations, the Russian Navy relieved the Kuznetsov group and ordered its return to the Northern Fleet.
The Syrian campaign presented Russia's first opportunity to test out naval flight operations in combat conditions. The Kuznetsov's air wings flew over 400 combat sorties in November and December, but the Soviet-era carrier suffered the loss of two fighters due to the failure of the ship's arresting gear. Sources also indicate that Russia had to hire retired pilots as contractors in order to fill out the ranks of its naval aviators. Western analysts suggest that given her limitations, Kuznetsov's presence had little material effect on the broader military campaign.