Royal Caribbean Sets April 2024 Relaunch of Chinese Cruise Market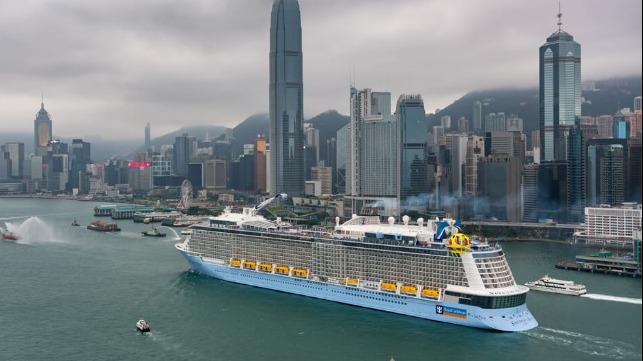 Royal Caribbean International announced plans to resume cruises from China starting in April 2024. It becomes the first of the Western cruise companies to set a date for Chinese cruises since early 2020 and the last major market to reopen after the pandemic.
The Chinese government has permitted a limited restart of cruising from mainland ports so far only for the domestic cruise market. Viking's joint venture with China Merchants recently resumed sailing for Chinese passengers and only calling at Chinese ports, while the administration in Hong Kong fully reopened its port to international passengers and cruise ships earlier this year.
Royal Caribbean International will reposition the Spectrum of the Seas (169,379 gross tons), which was built in 2019, from its current cruises from Singapore which it has been operating since April 2022 back to Shanghai as its homeport starting in April 2024. The itineraries will feature 4- and 5-night cruises to ports in Japan as well as a limited number of cruises from Hong Kong in December 2024 to ports in China, Japan, Taiwan, and Vietnam.
"This is the moment we – along with Chinese holidaymakers – have been waiting for. Our return to China is an exciting milestone," said Bert Hernandez, senior vice president, International, Royal Caribbean International. "We thank the government of China for establishing a pathway forward and continue to be committed to expanding the cruise industry in a region we have sailed from for more than a decade. This has also opened up a world of opportunities to expand the variety of holidays in Asia."
The Spectrum of the Seas was built for the Chinese cruise market as Royal Caribbean sought to further expand its leadership in the area. The first of the two Quantum Ultra Class ships, she is 1,138 feet in length with a capacity of 5,064 passengers. According to data from China, in 2019 before the shutdown due to the pandemic, the Spectrum of the Seas completed 48 cruises from China carrying more than 230,000 passengers.
Speaking recently with the investment community, Michael Bayley, President and CEO of Royal Caribbean International said that pre-pandemic the line had built a significant business in the Chinese market. "I think Royal was the number one cruise brand in China by volume, and we had a few of our ships that were operating there," Bayley reminded analysts during the recent briefing.
"Our expectation is that this market will return to how it was pre-pandemic," said Bayley. "The value of a Chinese customer is very high. When you look at the net revenue from a Chinese consumer, it's typically around the same level as an American and slightly higher."
China had been the fastest-growing segment of the cruise market developing a growing base of passengers for cruises departing China and beginning to supply passengers for international departures. Bayley said on the May 4 conference call, "We still got some work to do, but we've now started to rebuild our sales organization in China, and we expect, hopefully, by late spring, early summer 2024 to be back operating out of China."
Royal Caribbean also plans to reposition a second cruise ship, the Anthem of the Seas (168,666 gross tons), to Asia for the first time. She will replace the Spectrum of the Seas sailing from Singapore starting in late 2024. Other Western cruise companies have also been seen as posturing for a return to China, including Costa which currently has a ship cruising from Taiwan, and MSC which had also been one of the larger operators in China before the pandemic. China is also due to launch its first larger, domestically built cruise ship in early 2024 in a joint venture between Carnival Corporation and CSSC.