Rodriguez Resigns from Crystal Cruises
Edie Rodriguez resigned from her position as CEO of Crystal Cruises on Friday. Rodriguez said her sudden departure was "very amicable," and she expects to announce plans to join another venture in the coming weeks.
Rodriguez joined Crystal as President & COO in October 2013; she was promoted to President & CEO following the acquisition of the company by Genting Hong Kong in May 2015. Prior to Crystal, Rodriguez held senior marketing, sales and business development positions with other notable luxury lines and travel companies.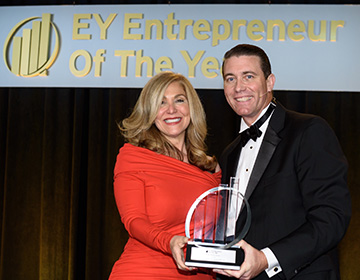 Rodriguez was awarded top honors from Ernst & Young during its annual Entrepreneur of the Year Florida Awards earlier this year. Since taking the helm of Crystal, Rodriguez has led the company through an exponential brand and fleet expansion.
In her place, Genting Hong Kong has appointed travel industry veteran Tom Wolber effective from September 15. Wolber brings over three decades of experience in general management, operations, newbuild construction and business development to Crystal during the company's most significant expansion since its founding in 1988, says Genting Hong Kong.
"Tom's proven leadership skills will be invaluable to Crystal as the line takes delivery of four river ships in 2017 and 2018 as well as the first of the 'Endeavor Class' expedition yachts in 2019," said Tan Sri Lim Kok Thay, Chairman of Genting Hong Kong and Crystal Cruises. "His leadership will be key to the finalization of specifications and design for the new 'Exclusive Class' oceangoing vessels. Tom has our full confidence and we look forward to working closely with him to ensuring Crystal remains unmatched in the luxury travel segment."
"Crystal has developed a venerable reputation across the travel industry and my first responsibility will be continuing to deliver the world-class service and itineraries Crystal is renowned for," said Wolber. "I thank Chairman Tan Sri Lim for placing his faith in me, and I look forward to spearheading some of the most innovative new-builds and experiences the cruise and hospitality industry has ever seen in the years ahead."
Wolber joins Crystal most recently from the Walt Disney Company where he served in various executive roles for 28 years, 10 of which were with Disney Cruise Line where he served as Senior Vice President of Operations. Wolber was involved in transforming Disney Cruise Line from a Port Canaveral based vacation provider to a global cruise line with itineraries covering North America, the Mediterranean and the Baltic. During his time at Disney, Wolber assisted with the successful design and launch of newbuilds including Disney Dream and Disney Fantasy. Additionally, Wolber served as President and CEO of Euro Disney, Paris, and has held senior executive positions in Disney theme parks and resort operations at the Walt Disney World Resort in Orlando, Florida.
"Since acquiring Crystal in 2015, Genting has worked tirelessly to expand the Crystal brand by launching two river vessels with a third imminent, an expedition yacht and a private Boeing 777 – certainly no easy feat," added Tan Sri Lim. "Thanks to Edie Rodriquez's leadership, Crystal has successfully launched three new brands: Crystal Yachts, Crystal River Cruises and Crystal Air. We thank Edie for her service to the company, appreciate all of her hard work, and wish her the very best in future endeavors."
"It's been an extraordinary experience leading Crystal to global prominence, and I am very proud of my accomplishments," said Rodriguez. "I can't thank Chairman Tan Sri Lim enough for the confidence and investment to assure Crystal's future with a bold expansion strategy which I've firmly put in place. I'm happy to turn over the reins, knowing Crystal is well served by incredibly talented and hard-working people throughout the organization – on sea, river, air and land. I look forward to announcing my new endeavor shortly."