Resolve Marine Joins Pacific Paradise Salvage Effort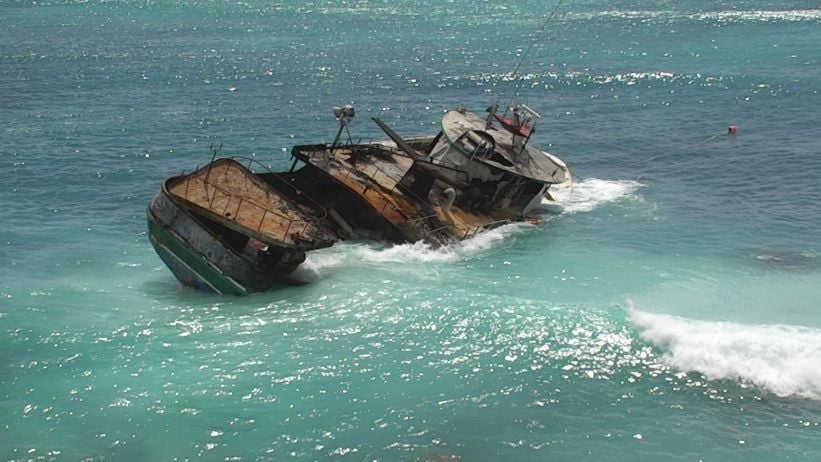 The long-running effort to remove the fishing vessel Pacific Paradise from a reef off Waikiki continues, the Coast Guard said in an update Friday. After multiple failed attempts to refloat her, the USCG-led unified command has contracted Resolve Marine Group, American Marine, Global Diving and Salvage and Pacific Environmental Corporation to assist with the effort.
The Paradise has been aground since October 10 in an area of ecologically sensitive coral heads about 500 yards off a beach near Waikiki, Honolulu. As of October 25 she was carrying 1,500 gallons of fuel. She caught fire during a previous salvage effort and burned for several days, raising questions about the strength of her decks, and she has taken on water. In addition to these challenges, accounts from local officials suggest that her hull (or a hull protrusion) may be physically stuck in the reef.
In late October, Seattle-based operator Foss Maritime was contracted to remove the Paradise. Michael MacDonald, director of Foss Marine Operations & Commercial – Hawaii Region, told local media that the Paradise's buoyancy had decreased since she went aground, making her harder to move. "Since the fire and everything it's no longer lively, it's no longer moving. So we're really trying to move, basically, dead weight at this point," he said.
A previous attempt by Cates International to tow the Paradise off the reef was also unsuccessful. "Salvage teams attempted various removal procedures both on the bow and stern, and although the vessel had movement during the process, it remains aground," said Capt. Michael Long, commander, Coast Guard Sector Honolulu and captain of the port.
Captain of the Port Michael Long met with stakeholders and federal agencies to discuss the long-delayed effort on Wednesday. In addition to the salvors, representatives from the National Oceanic and Atmospheric Administration, Department of Transportation Harbors Division, Department of Land and Natural Resources, Department of Health, U.S. Fish and Wildlife and the National Pollution Funds Center were in attendance.
COTP Capt. Long and stakeholders in Honolulu on Wednesday
"The combined experience of the team we have working this challenge is impressive and the effort they've put in to develop this wreck removal plan is significant," said Capt. Long. "This response is a dynamic and constantly evolving process with many factors to consider and it will take some time to complete. Modifications to the pollution removal plan and changes in timelines are possible, but we are committed to resolving this situation."
On Thursday, the team replaced sorbent boom aboard the vessel collecting oily water and fuel leeching from the engine room. This type of boom has been in place since the grounding and is replaced as needed. The pollution threat removal effort has been divided into several phases that will take several more weeks to complete.
Once the vessel is removed at last, the Department of Land and Natural Resources' Division of Aquatic Resources will put teams into the water to assess damages to the coral reef and determine the best steps for restoration.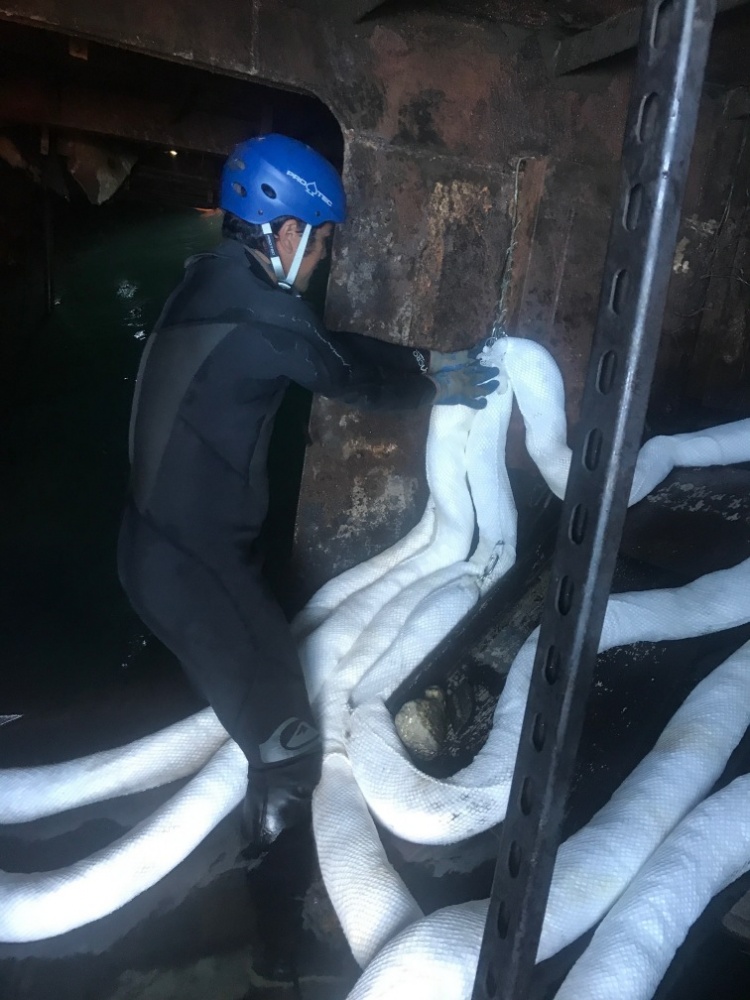 Salvors replace absorbent booms aboard the Pacific Paradise