Report: Massachusetts Could Produce Most Offshore Wind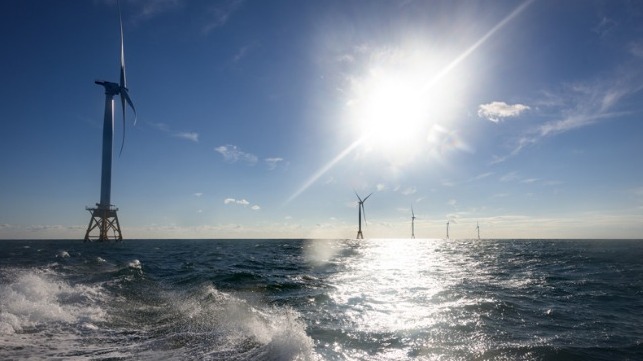 Massachusetts could produce more energy from offshore wind than any other state, according to a new report from the Environment Massachusetts Research & Policy Center.
According to the report, Wind Power to Spare: The Enormous Energy Potential of Atlantic Offshore Wind, Massachusetts' offshore wind potential is equivalent to more than 19 times the state's annual electricity consumption. If all heating and transportation in Massachusetts were converted from fossil fuels to electric power, offshore wind could still produce eight times as much energy as the Commonwealth consumes each year.
"New Bedford has worked hard to position itself as an offshore wind energy leader," said New Bedford Mayor Jon Mitchell. "We are the closest industrial port to 25 percent of all offshore wind reserves in the U.S., and as the nation's top-grossing fishing port, there's already a strong foundation of maritime industries and ocean science institutions to support the industry's growth here. So the notion that offshore wind can be a major economic driver is anything but speculative."
There are now 13 leased offshore wind projects moving forward in the U.S., which could provide enough electricity to power approximately 5.2 million homes. In December, three companies submitted proposals to develop the first offshore wind farm providing power to Massachusetts.
"Atlantic coastal states use more than a quarter of the nation's energy," said Gideon Weissman, a policy analyst with Frontier Group and an author of the report. "Offshore wind is the ideal resource for these states; it's clean, it's renewable, and it's conveniently located near our biggest cities."
In August 2016, Governor Charlie Baker signed legislation committing Massachusetts to purchase 1,600 megawatts of offshore wind by 2027, equivalent to approximately 10-15 percent of Massachusetts' electricity consumption on an annual basis. Since then, New York has adopted a 2,400-megawatt offshore wind target, and New Jersey has committed to develop 3,500 megawatts of offshore wind by 2030.
Advances in technology, have contributed to the recent momentum behind offshore wind. The turbines at the Block Island Wind Farm in Rhode Island produce 30 times more electricity each year than the first offshore wind turbines installed in Denmark in the early 1990s.
According to the asset management firm Lazard, the overall cost of new offshore wind has declined by 25 percent in the last five years. Bloomberg New Energy Finance predicts that the cost will decline by an additional 71 percent by 2040.