Quick Action of Chinese Containership Saves Crew from Rafts off Philippines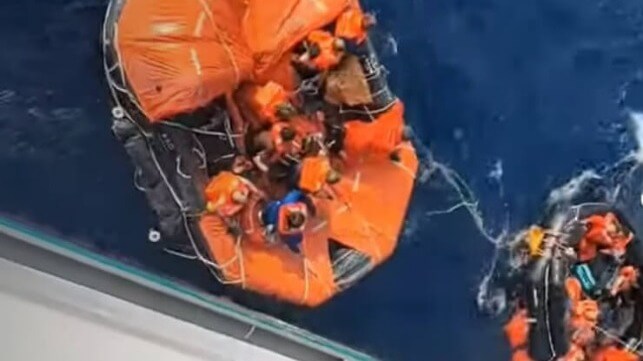 The Philippines Coast Guard is honoring the crew of a Chinese containership for its brave actions in saving the crew from a chemical tanker that was in distress. The sixteen crewmembers were rescued from two rafts in rough seas after they abandoned their ship.
The MT King Rich registered in Sierra Leone reported the product tanker was taking on water on Saturday, November 18, in the northernmost waters of the Philippines approximately 80 nautical miles from the small Badoc Island. Built in 1990, the 13,925 dwt tanker was traveling empty when it encountered the rough seas.
The captain later told the rescuers that the propeller shaft broke around 13:00 on Saturday, causing the tanker to begin taking on water. The crew initially attempted to control the flooding but soon determined that they could not pump the water out. Fearing the vessel would be overwhelmed, prepared to abandon ship. The Philippine Coast Guard reports the crew secured the fuel tanks and the engine before entering two rafts.
The 13 Indonesians and three Chinese crewmembers were rescued about four hours later when the Hong Kong-registered containership Sheng An came upon the two rafts. The 24,500 dwt feeder containership was sailing from China to the Philippines and was able to position itself to intercept the rafts. Video shot from the deck shows the rough seas bouncing around the two rafts.
The crewmembers were brought safely aboard the containership which proceeded to Subic Bay in the Philippines where it arrived on Sunday morning. The Coast Guard reports the rescued crew is all in good physical condition thanks to the efforts of the containership.
The Coast Guard Aviation Force overflew the area today and reported the product tanker is still afloat and drifting. The Coast Guard says it is working with the vessel's owner to secure a tow before the vessel is lost.