Putin Calls for Accelerating Warship Construction for the Russian Navy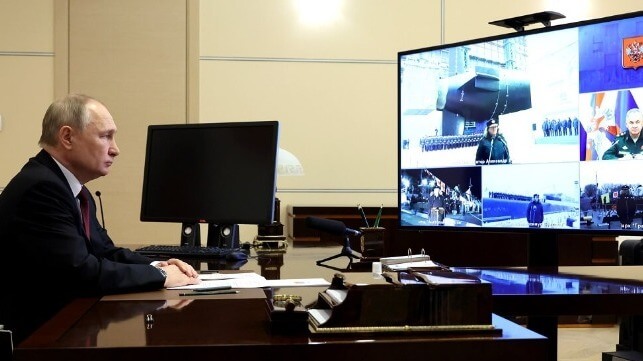 Russian President Vladimir Putin has called for accelerating the pace and volume of warship construction for the Russian Navy, which lost one surface combatant last year and likely suffered damage to one more.
Putin spoke remotely while presiding over four different simultaneous ceremonies to hoist the flag on new vessels delivered to the Navy and celebrate the launch of the nuclear-powered cruise missile submarine Imperator Aleksandr III. During the commissioning events, shipyards in Severodvinsk, Baltiysk and Vladivostok handed over to the Russian Navy the nuclear-powered cruise submarine Generalissimus Suvorov, the corvette Grad and the minesweeper Anatoly Shlemov (respectively).
Generalissimus Suvorov and Imperator Aleksandr III are the sixth and seventh nuclear missile submarines of the Borei-A family, capable of carrying Bulava ICBMs. Grad is a Buyan-class guided missile corvette, capable of carrying Kalibr cruise missiles, and her sister ships in the Black Sea Fleet have played a role in bombarding Ukrainian targets.
"I stress that we will increase the speed and volume of building vessels of different types, equip them with the most advanced weapons and provide operational and combat training to our navy men, including based on the experience gained during the special military operation," said Putin, referring to the invasion of Ukraine.
The costs of the war, however, may eventually force tradeoffs. December 24 marked the 300th day of what was supposed to be a "three day" operation, and the UK's Ministry of Defense (MoD) believes that Moscow has committed more than 30 percent of its entire budget to defense, security and law enforcement for next year. $143 billion will be allocated for these three areas in 2023, a significant increase compared to prior years.
"The budget approved by Putin is likely over-optimistic in its expectations of revenues and spending in 2023. Therefore, other parts of Russia's budget are likely to come under increasing pressure to support the costs of the war," predicted the MoD.