Putin and Abe Discuss Energy Cooperation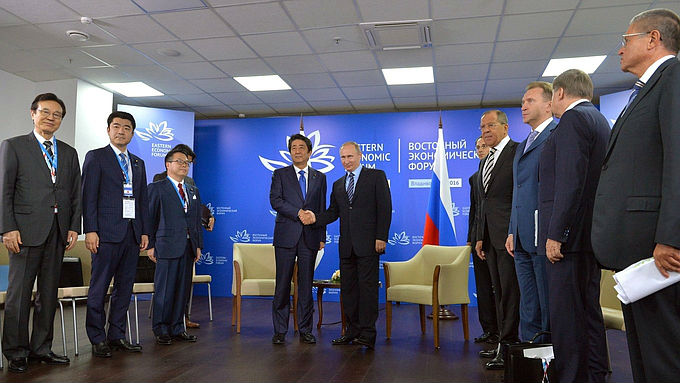 Russian President Vladimir Putin met with Prime Minister of Japan Shinzo Abe to discuss the development of bilateral cooperation and interaction in Asia Pacific on Friday. The meeting was held on the sidelines of the Eastern Economic Forum, which is being held in Vladivostok on September 2–3.
The leaders discussed the prospects of economic cooperation including an eight-point plan covering the energy sector, medicine and technology.
"The Russian Far East has a huge potential and, as far as I know, developing this region is one of Russia's priorities," said Abe. "The development of the Asia Pacific region is driving the global economy. The Far Eastern region is important for boosting the development of Japan and Russia because it offers an opportunity for collective work.
"As a neighboring country, Japan is willing to do its best to further develop cooperation with Russia in this region."
Russian Energy Minister Alexander Novak said the setting up a joint $1 billion investment fund was discussed at the meeting.
Sakhalin
The leaders also discussed opportunities for Japan's companies to participate in Sakhalin-2 and Yamal LNG projects with Japanese JGC Corporation exploring the possibility of building mini LNG plant on Sakhalin.
General Director of Mitsui & Co Moscow, Hiroshi Meguro, said earlier on Friday that Mitsui investment in the expansion of Sakhalin-2 will total more than $1 billion. He said the company is also interested in the Sakhalin-3 project.
Sakhalin Energy is the Sakhalin-2 operator, the only operating Russian LNG project so far. Sakhalin Energy's shareholders are Gazprom with a 50 percent stake, along with Royal Dutch Shell (27.5 percent), Mitsui (12.5 percent), and Mitsubishi (10 percent).
The third train, Sakhalin-3, is expected to add 5.4 mtpa of LNG production capacity to the 9.6 mtpa Sakhalin II currently produces. Gazprom holds 50 percent plus one share in the project while Shell holds 27.5 percent, Mitsui 12 percent and Mitsubishi Corporation 10 percent.
LNG Bunkering
Gazprom and Mitsui also signed a Memorandum of Understanding in Vladivostok reflecting their intention to cooperate in feasibility and marketing studies for LNG bunkering in Russia's Far East and the Asia-Pacific region.
"Gazprom and Mitsui have successfully cooperated on the Sakhalin II project. Now we have an excellent opportunity to partner in a new business area – small-scale LNG. Joint efforts in the bunkering industry will help our companies diversify our businesses and strengthen our positions in the dynamic Asian market," said Alexey Miller, Chairman of the Gazprom Management Committee.
Rosneft, BP and Schlumberger sign Technology Agreements
Also in Vladivostok, Rosneft, BP and Schlumberger signed agreements for collaboration on seismic research and development.
Under the terms of the agreements, Rosneft will join as an equal partner in BP's ongoing project with Schlumberger's seismic business, WesternGeco, to develop innovative cableless onshore seismic acquisition technology. The technology aims to revolutionize the design and acquisition of 2D and 3D seismic surveys, which in turn will improve subsurface imaging and the efficiency of exploration, appraisal and field development. The ability to deliver faster and better quality seismic data acquisition at lower cost compared to conventional seismic surveys will also bring environmental and safety benefits in difficult to access areas and extreme climates.
The project envisages an initial two-year period to complete the development of a seismic acquisition system. BP and Rosneft will have preferential access to this technology for an initial period, after which Schlumberger will have the exclusive rights to market the system.