Product Tanker Strikes Taiwanese Frigate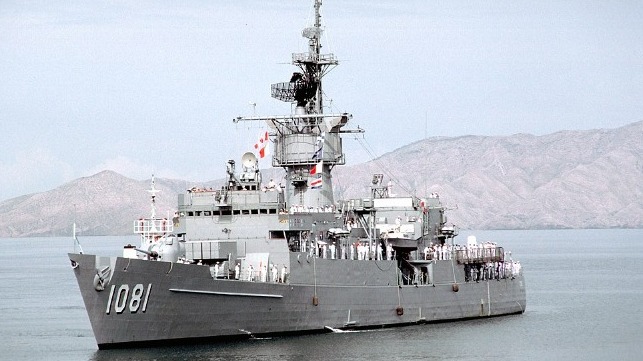 The operator of the Saudi product tanker NCC Sama has reportedly agreed to cover the damages stemming from her allision with a Taiwanese frigate at the port of Keelung.
Early Saturday morning, the Sama was entering the port of Keelung with a cargo of 3,000 tons of ethylene glycol. The Taiwanese frigate Ning Yang was moored at a pier on the south side of the main ship channel, and the Sama struck her as she passed.
The Ning Yang suffered a dent in her port side amidships, but no pollution or injuries were reported. Taiwan's ministry of defense immediately said that it would seek repayment for the damage, and the Sama was detained for an investigation. According to local media, the Sama's operator signed a compensation agreement the day after the casualty. As of Tuesday evening, the Sama had departed Keelung and was under way off Taiwan once more.
The Ning Yang (ex name USS Aylwin) is a Knox-class frigate built at Avondale Shipyard in 1971. She was decommissioned in 1992 and transferred to Taiwan in 1998, and she still serves Taiwan's navy in an anti-submarine warfare role.