Port of Hamburg's 5G Applications Pass Field Test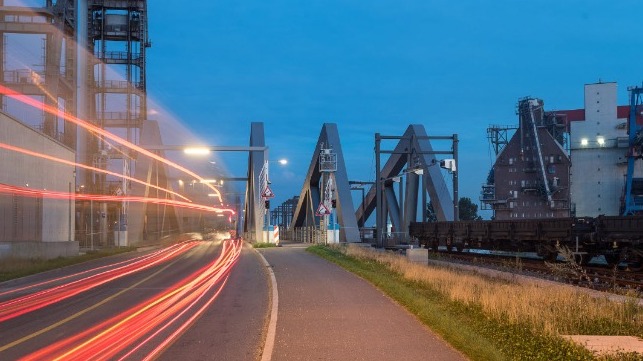 The Hamburg Port Authority, Deutsche Telekom and Nokia have had success in field testing a 5G application at the Port of Hamburg in Germany.
5G is a new network concept that integrates fixed-line and mobile communications. It is not solely about making bandwidths ever larger or speeds ever faster and will be used for many diverse applications with very different requirements in terms of speed, response time, security and capacity. It will play a key role in new applications emerging from the Internet of Things and Industry 4.0. Both the manufacturing and logistics industries in particular are expected to benefit from 5G mobile communications.

The 5G trial at the Port of Hamburg is part of a two-year research project entitled 5G MoNArch (5G Mobile Network Architecture for diverse services, use cases, and applications in 5G and beyond). The field test is set to run for two years and will establish a basis for defining further aspects of the 5G standard.
The port covers around 8,000 hectares, and three case studies using real-life applications are being used to demonstrate the reliability of the new standard. In the first, the partners have installed sensors on ships belonging to HPA's subsidiary, Flotte Hamburg GmbH & Co. KG. These sensors transmit movement and environmental data in real time from across large swathes of the Port.
In another example, a traffic light has been linked to the mobile network and can be operated remotely by the HPA control center to control traffic as it flows through the Port. Trucks, for example, are guided quickly and safely around the site.
In the third example, the new standard makes high data volumes available quickly outside of existing networks, transmitting 3D data to an augmented reality application. Smart glasses use the information to show wearers building data relating to future or former structures in a real environment. In future, this technology will help engineers to monitor or optimize construction planning directly on site at the Port.

The project participants are looking to gain evidence that complex mobile applications with many different requirements can work reliably over one single network, particularly high data rates or a high volume of sensors. In order to cope with these demands, the mobile network in the test environment is split into special virtual networks known as network slices. Each slice supports a specific requirement. The result is separate virtual networks that can be used for managing, for example, the traffic light system.
The new architecture is the first of its kind to allow networks to be adapted dynamically and flexibly to the demands of a broad spectrum of applications. The technological basis for the testing ground is provided by a transmitter installed at a height of over 150 meters (500 feet) on Hamburg's television tower in January 2018. The stability of the mobile signal is monitored and verified by numerous measurement runs on land and the River Elbe. Industrial applications require a telecommunications network that is particularly reliable and highly secure.