Pioneering Spirit Resumes Work on TurkStream Pipeline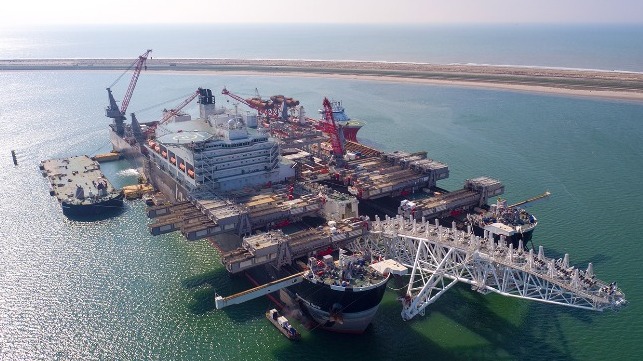 Less than a month after completing a successful platform installation off Norway, the Pioneering Spirit has resumed pipelay work on the TurkStream pipeline under the Black Sea. She has had a busy year: she finished building the pipeline's first string on April 30, exited the Black Sea on May 2, installed a 22,000 tonne topsides unit at the Johan Sverdrup field off Norway in early June, and entered the Black Sea once more on June 20.
Upon her return at the TurkStream site, the Pioneering Spirit conducted preparatory work, including stinger deployment and pipelay equipment checks. Once she was ready, the unfinished head of the second pipeline string was recovered from the bottom of the Black Sea, at a depth of 7,100 feet. The initial 120 nm section of the second string was built in 2017, and was only completed up to the Russian-Turkish EEZ border.
Pioneering Spirit transits the Bosporus, May 2, 2018 (social media)
The 2014-built Pioneering Spirit is the world's largest vessel in terms of gross tonnage (400,000 gt), breadth (406 feet) and displacement (900,000 tons). She is also the world's largest-capacity pipelay vessel. Separately, she is the only vessel capable of installing or removing large-scale offshore platform topsides in a single piece, without on-site assembly or dismantlement.
Gazprom's TurkStream project is a new export gas pipeline across the Black Sea from Russia to Turkey, with an onshore connection to Turkey's border with the EU. The first string of the pipeline is intended for Turkish consumers, while the second string will deliver Russian gas for southern and southeastern Europe. Each string will have a capacity of about 16 billion cubic meters of gas per year.