Pilot Transfer Heli Crashes off Port Hedland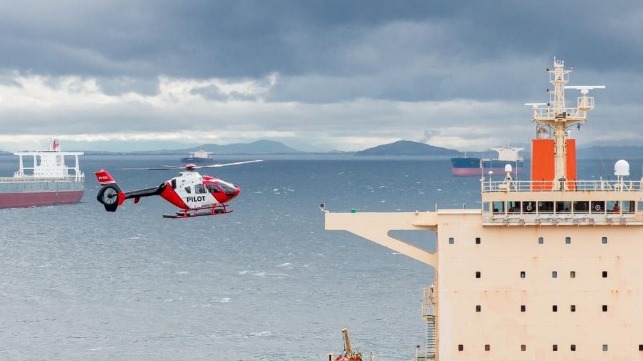 A search is under way off Port Hedland, Australia for one of two occupants of a helicopter that crashed early on Thursday. Eight aircraft and seven vessels are engaged in the SAR effort.
The helicopter was about to pick up a marine pilot from the 90,000 dwt bulker Squireship at the time of the accident. The pilot on the Squireship saw the aircraft go down and contacted the authorities.
One of the helicopter's two pilots managed to escape the wreck and get into a life raft. He was spotted and picked up by a good samaritan vessel about one hour after the crash, and was taken to a local hospital for treatment.
"[The survivor] has done the underwater escape training and he managed to free himself and activate his personal locator beacon," said Australian Maritime Safety Authority (AMSA) spokesman Craig Condon. "As well he let . . . four flares off which greatly assisted in his retrieval."
Condon said that it is believed the helicopter flipped upside-down just after impact, and it remained that way for half an hour before sinking. The water depth in the vicinity of the crash site is about 60 feet, and police divers from Perth have been dispatched for an underwater search. SAR teams have located a debris field, but the wrecked aircraft itself has not yet been found.
The survivor and the missing pilot were both employees of Mackay Helicopters, a company that provides transportation for marine pilots. One of the men was a trainee, but both had thousands of hours of flight experience, Mackay's CEO told media.
Mackay says that it has conducted more instrument flight rules (IFR) marine pilot transfers than any other company in Australia. The company also provides SAR services, both onshore and over water, and it is participating in the search for the missing aviator.
Port Hedland is a busy export hub for iron ore, and it is Australia's largest seaport by tonnage. It handles more than 6,000 vessel movements and 500 million tonnes of cargo per year.