Pierfrancesco Vago, Executive Chairman, Global Chair of CLIA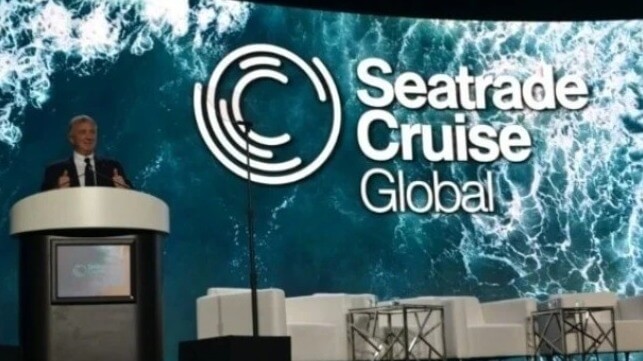 Pierfrancesco Vago, Executive Chairman of the Cruise Division of MSC Group and Global Chair of CLIA March 28, 2023, Speech to Cruise Industry at Fort Lauderdale Convention Center
March 28, 2023:
"I can not talk about sustainability – it is the only path for us as an industry to achieve the next growth phase."
This is an important year for cruising as we return to the scale we had achieved before the pandemic and begin moving forward with greater purpose. Our 2023 passenger forecasts show we will likely exceed 2019 guest volumes, putting us back on a positive trajectory. We expect between 27 and 33 million cruise passengers worldwide this year. By 2026, we will reach nearly 39 million passengers – 30% higher than in 2019.
Much work is required to achieve this, including efforts to attract a new wave of first-time cruisers. We take this path supported by a strong track record, dedicated trade partners, and positive consumer sentiment. The intention to cruise is now higher than it was before the pandemic. CLIA's latest research shows 85% of those who have cruised in the past are likely to cruise again – 6 percentage points higher than in 2019. Even among those who have never cruised, the number who say they are interested in or considering a cruise holiday is higher than in 2018 and 2019.
2023 will also deliver the youngest, cleanest, and most technologically advanced fleet ever.
CLIA cruise lines will introduce 14 newbuilds this year. Bringing greater efficiencies, lower emissions advances in design and propulsion, new fuels, and sophisticated technologies to monitor and optimize energy use like never before, alongside a myriad of technical improvements of all sizes. In fact, we can achieve 70% of the reduction in our emissions with this kind of technological innovation while the remaining 30% is down to fuel - we need new, sustainable fuels. Our ships have in-built adaptability and are ready for future fuels like synthetic and bio.
Cruise is leading the way in responsible travel, and thanks to this, we have an opportunity to become an essential industry. We have overcome the complex challenges around decarbonization ahead of many other sectors of business and society. But people don't know how far we have come, which is a failure on our part. We need to communicate better about the important sustainable aspects of cruising.
MSC Poesia
Our industry's progress in the past three years is remarkable, and we are taking the lead in the wider maritime sector. LNG-powered cruise ships opened the way for the maritime sector in the deployment of this new technology. Nearly 60% of new-build capacity will rely on LNG for primary propulsion, and by 2028 the global fleet will include 38 ships powered by LNG, which is already delivering a significant reduction of local atmospheric emissions and opens the path to the deployment of new renewable energy. We are leading in the adoption of shoreside electricity.
40% of global capacity is fitted to operate on shore-side electricity in ports where it is provided, and 98% of new build capacity will be ready to support shore-side power.
However, ports are behind where they need to be, both here in the US and in Europe, given the looming legislative deadlines like the ones set by European institutions last week.
Regarding land operations, we are also working with coastal communities to support their goals for sustainable tourism while generating a positive economic impact.
For example, in Juneau, Alaska, we are part of an agreement that supports the community and local businesses and further reduces environmental impacts. While in Santorini, Corfu, and Heraklion, we have developed a roadmap to sustainable tourism through collaboration with the sustainable tourism board. The cruise industry has shown our commitment to sustainable tourism through the success of these initiatives worldwide, and we stand ready to engage for more.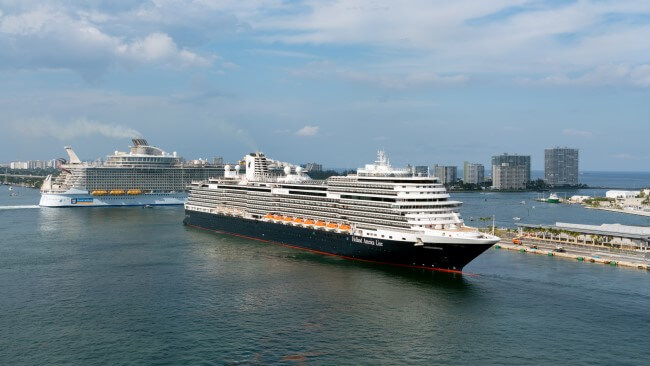 Port Everglades
We as an industry must work to ensure responsible business practices are built into our growth, and we want to do this – we WILL do this – with you. To succeed in our vision for net-zero, we need three 'Ps': Passion, Purpose, and Perseverance. Passion: This is the heart of ambition – the pure passion combined with professionalism and belief that we can achieve it.
Purpose: We need alignment in our shared goals and on what is required to achieve them – the investment, the pursuit of public-private partnerships and support, the elevation of the cruise when governments consider policy settings, and the creation of infrastructure.
Perseverance: Success is only possible through action and persistence. This means all aspects of action – from scenario planning to ongoing assessment and reporting on progress to making the adjustments necessary to stay on course.
But the challenges we face are not just in the scale of what we must achieve, nor are they solely in the technological and engineering advances we need to make.
We continue to face opposition and unwarranted attacks from activist organizations and some NGOs based on old, outdated data and studies. We must address community perceptions in sensitive destinations.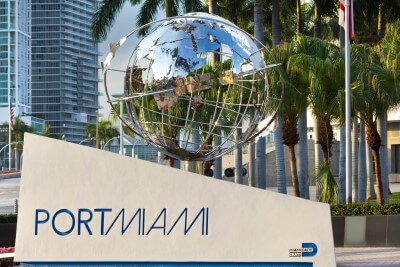 PortMiami
If we don't, misinformation will distort the reality of the well-managed and responsible cruise tourism that we stand for. We face the recurrent threats of bans, poorly conceived limits on visitation, and new taxes that do not even support research and innovation for environmental technologies. We must help governments and policymakers understand that the cruise sector is a vast and essential part of the economy and the employment landscape and that it benefits coastal communities.
They need to know that it must be included in wider efforts to foster innovation, overcome technical barriers, develop infrastructure, and supply a new generation of fuels at scale.
In recent weeks CLIA joined Europe's maritime technology industry in a call for shipbuilding to be recognized as an integral part of the EU's "Green Deal Industrial Plan." It is essential for the cruise sector and maritime technology industry to be considered fully in national and regional schemes for renewable energy deployment mechanisms and for the financial world, so see us as innovators in the industry in general.
We must also not forget the importance of access to Green Finance, such as taxonomy, to ensure the future of sustainable shipbuilding. We all know our path ahead is far from easy, but when has anything in the cruise industry ever been easy? Yet our commitment is clear; we will achieve a responsible and sustainable cruise industry.
We will achieve net zero by 2050 – because we must. We are not only sailing to a better future; we are sailing to a better world. This is a responsibility we hold for our children and for generations to come. All of us are together on this path, and we rely on each other as partners. We shouldn't forget, but maybe we all need reminding. We offer the best vacation there is today, no one and nowhere offers a better experience or better value for money.
Thanks to our collective efforts through CLIA, we have emerged stronger from the pandemic. We are better together. This is how we can help our industry navigate the future and continue to generate prosperity across the value chain. We must stick together and face the future united as an industry.