Photos: Futuristic Destroyer Zumwalt Delivered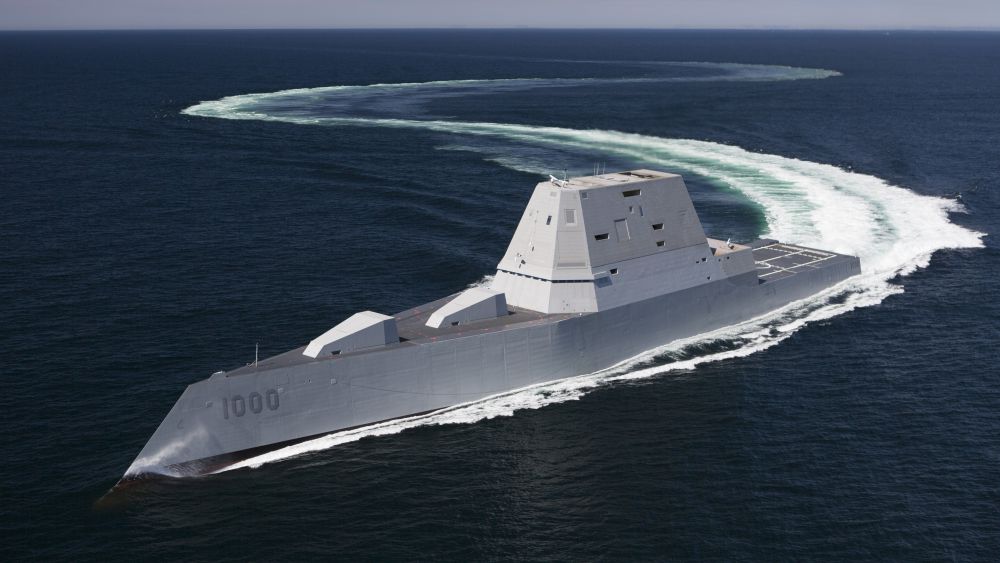 Following a successful series of sea trials, and just in time for the celebration of Armed Forces Day, the U.S. Navy has taken delivery of the much-anticipated stealth destroyer USS Zumwalt.
The trials included demonstrations of mechanical, hull and electrical systems, to include handling, mooring, damage control, ballasting, navigation and comms systems. Weapons systems are not yet commissioned and will be completed in her new home port of San Diego. The Navy says that her deployment to the West Coast reflects a broader repositioning of assets to the Pacific, and that by 2020, an estimated 60 percent of the fleet will be based in the region.
"Today represents a significant achievement for not only the DDG 1000 program and shipbuilding team but for the entire U.S. Navy," said Rear Adm. Jim Downey, DDG 1000 program manager. "This impressive ship incorporates a new design alongside the integration of sophisticated new technologies that will lead the Navy into the next generation of capabilities."
The Zumwalt's hull design and superstructure are intended to reduce her radar cross-section, and during sea trials the Navy reportedly deployed radar reflectors to ensure that she would be visible on radar to nearby vessel traffic.
She is designed with an integrated power system capable of distributing the full electrical power of her four turbine engines to propulsion, ship's service and combat systems as needed, enabling later installation of advanced weapons technologies.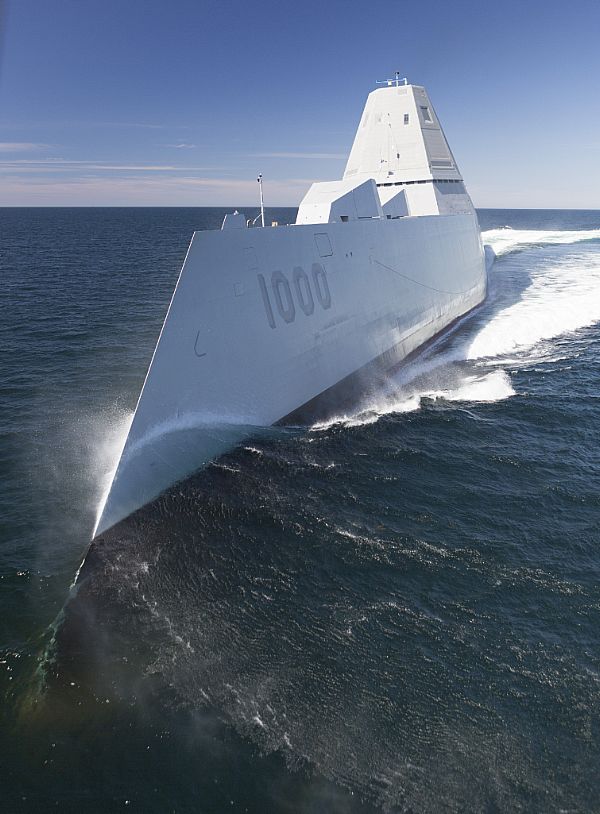 Her new crew will undergo a training and certification period at the Bath Iron Works yard in Maine, and the Zumwalt will be commissioned in Baltimore in mid-October. She will then transit to San Diego.
"Zumwalt's crew has diligently trained for months in preparation of this day and they are ready and excited to take charge of this ship on behalf of the U.S. Navy," said Capt. James Kirk, commanding officer of the Zumwalt. "These are 143 of our nation's finest men and women who continue to honor Adm. Zumwalt's namesake with their dedication to bringing this ship to life."
The class has encountered problems with delays, progressive scalebacks and cost overruns, and including distributed R&D expenses the lead ship's price rises towards $7 billion.
The Government Accountability Office (GAO), commenting on Department of Defense data submitted to Congress, reported in March that "the DDG 1000 Zumwalt Class Destroyer [experienced] a delay of 26 months over the past year due to technical risk, shipyard performance, and shipyard workforce constraints." When activation and commissioning of combat systems are taken into consideration, the Navy does not expect an initial combat capability for the vessel until the end of 2019 – more than four years later than planned.
The reasons behind the delays (and corresponding increases in unit cost) were primarily manpower and technical difficulties. "Program officials said delays were initially driven by production challenges, particularly a shortage of labor to complete electrical work. The program also encountered significant technical issues related to the integrated power system . . . due, in part, to the Navy's decision to not fully test and validate the performance of the system in a representative environment prior to installation on the ship."
Navy program officials were consulted in the preparation of the GAO's report, and their responses were incorporated into its findings, the agency said.