World War II LST Warns Off Chinese Warship in S. China Sea
Last week, a Philippine Navy supply ship had a close encounter with a Chinese corvette just off the coast of Thitu Island, a Philippine-controlled natural island on the western edge of the Spratly archipelago.
On Friday, the 1944-built tank landing ship BRP Benguet was under way about six nautical miles south of the base at Thitu Island, headed south for the remote Philippine station at Rizal Reef (Commodore Reef). Her mission was to resupply the garrison and provide for rotation of personnel.
According to the Philippine Navy, a Chinese naval vessel with the pennant number 621 (the PLA Navy corvette Panzhihua) approached to within 80 yards. The Panzhihua then moved to cut across Benguet's bow at a distance of 350 yards.
The crew of the Benguet warned off the Chinese warship with radio challenges, and a video of the scene shows that Panzhihua appeared to change course. The Panzhihua's crew responded to the radio contact by citing China's invalidated "ten-dash line" claim (formerly "nine-dash line").
China claims sovereignty over the vast majority of the South China Sea, including large swathes of neighboring states' exclusive economic zones (EEZs). The Permanent Court of Arbitration ruled in 2016 that these claims were inconsistent with international law, but China has ignored the ruling.
As a legally-recognized island, Thitu generates a 12-mile territorial sea. The location provided by the Philippine Navy suggests that the interaction occurred in sovereign Philippine waters, not just in the Philippine EEZ.
"These dangerous and offensive maneuvers by China's PLAN not only risk collision but also directly endanger the lives of maritime personnel from both sides. The AFP remains committed to ensuring the safety of its personnel during [rotation and replenishment] missions and asserts that it will continue to adhere to the rules-based international order," AFP chief Gen. Romeo Brawner Jr. said in a statement.
BRP Banguet (ex name USS Daviess County / LST-692) is a World War II tank landing ship built by Jeffersonville Boat & Machine Company in 1944. She participated in Operation Dragoon, the invasion of southern France, and later saw action in the Korean War. She has been in Philippine Navy service since 1976.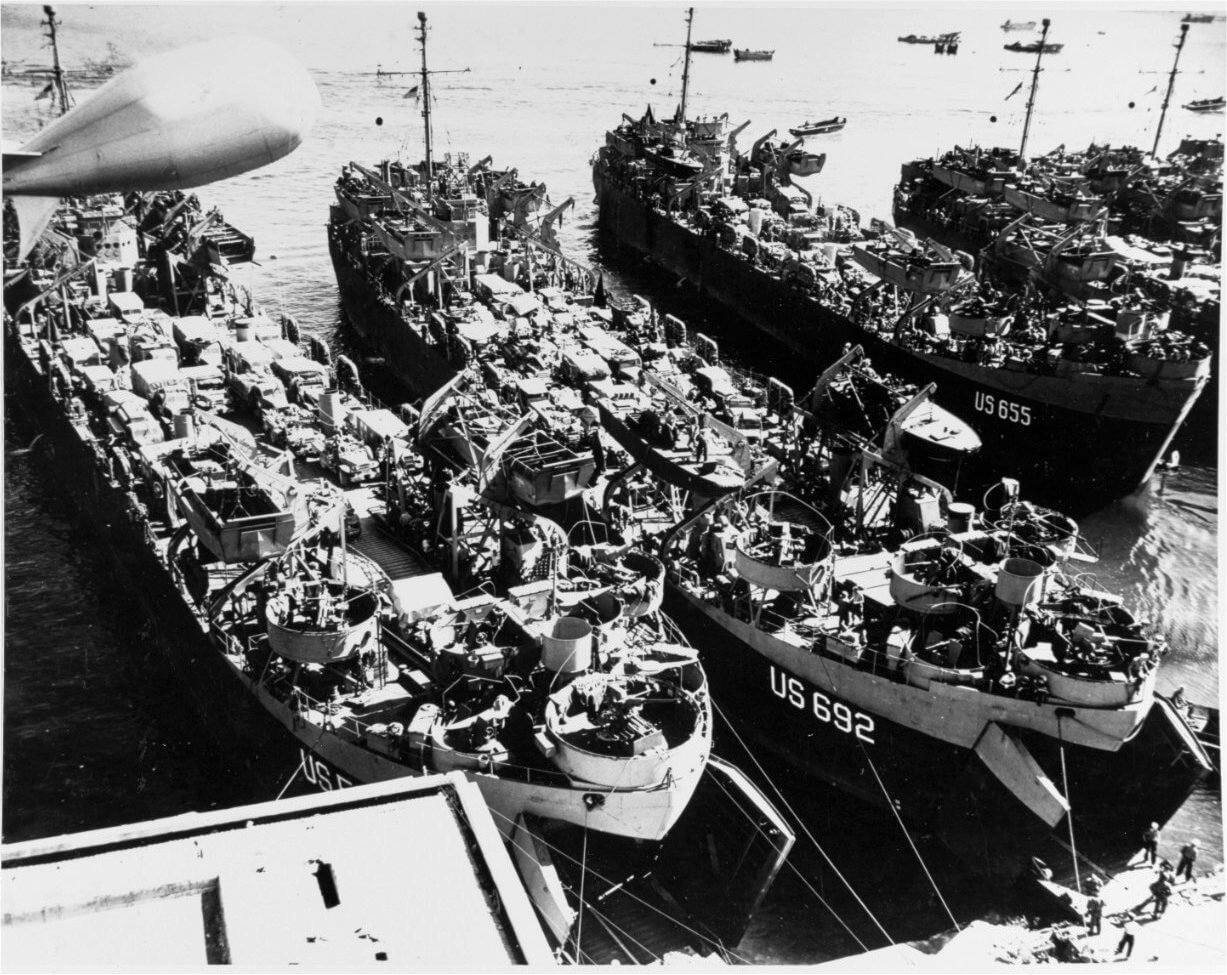 USS Daviess County (LST-692), center, moored in Nisidia, Italy to take on equipment for the invasion of southern France, August 9, 1944. Note barrage balloon upper left. (U.S. Naval History and Heritage Command / NavSource)